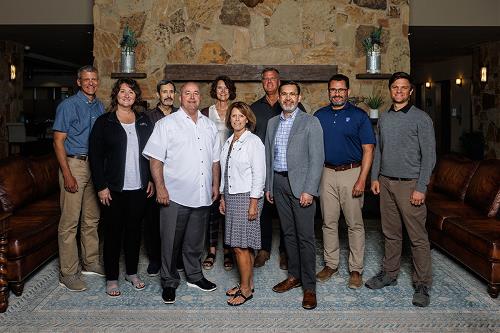 Front Row – L-R: Collette House, Larry Taylor (ACSI President), Linda Harrelson and Milton Gonzalez




Back Row – L-R: Jay Ferguson (Chairman), Solano Portela, Elisa Carlson, Todd Marrah, Carl Martinez and Nate Johnson




Not Pictured: Tia Gaines, Kevin Kyser and Alan Miller
John "Jay" W. Ferguson, Chair

Todd Marrah, Chair-Elect

Carl Martinez, Secretary

Elisa Carlson
Tia Gaines
Milton Gonzalez
Linda Harrelson
Collette House
Nathan Johnson
Paul A. Kienel * (Founder)
Kevin Kyser
Alan L. Miller
Solano Portela

* deceased
Purposeful Design Publications Releases New Dr. Alan Pue Book Highlighting the Importance of Christian Schooling and Discipling the Next Generation
Apr 5, 2021, 13:01 PM by Caitlyn Harding
Colorado Springs, Colo.– Purposeful Design Publications (PDP) is excited to release a new book examining the importance of Christian schooling and ways to biblically disciple the next generation.
"Rethinking Discipleship," by Dr. Alan Pue, explores the importance of the Christian community in helping youth develop a lifelong relationship with Christ so they can truly flourish.
According to Dr. Larry Taylor, ACSI President, the book's foundation is aligned with ACSI's Flourishing Initiative—to cultivate a school culture that glorifies Christ and excels in knowing Him and making Him known.
"'Rethinking Discipleship' is a thought-provoking resource uniting parents, ministry leaders and Christian educators to shepherd children's hearts and weave faith into every aspect of life," Taylor said.
Throughout the text, Pue shows how the effective journey of discipleship is framed by biblical principles and is supported through the collaborative efforts of home, church and school.
"Readers will embark on a holistic, comprehensive, theologically driven exploration of one of the most significant issues of our time," Pue said. "Evidence suggests the necessity of Christian schools to establish a firm foundation so that students are set up to have an eternal relationship with Christ."
Pue has written two other books on Christian schooling that are available on the PDP website, "Rethinking Sustainability" and "Rethinking Strategic Planning."
The new "Rethinking Discipleship" is available for purchase on the
PDP site
in digital and softcover format.
To learn more about PDP, please visit the website at
purposefuldesign.com
or connect with the ACSI Care Team by calling (800) 367-0798 or by emailing
careteam@acsi.org
.
About PDP:
Since the mid-1980s, Purposeful Design Publications (PDP), a division of the Association of Christian Schools International (ACSI), has provided resources and assessments, including academically rigorous textbooks that are intentionally rooted in biblical truth to equip schools and educators with the tools to eternally transform the hearts and minds of children.
Follow PDP on
Facebook
.
About Dr. Alan Pue:

Dr. Alan Pue has spent a lifetime in Christian schooling as a student, teacher, coach, head of school, pastor, and for five years as Provost of The Master's College (now University) in Santa Clarita, California. He currently serves as President of The Barnabas Group, Inc. providing strategic/scenario planning, leadership development, and governance training assistance to Christian schools and other faith-based organizations. He has been a featured speaker at hundreds of conferences worldwide and is the author of three books– "Rethinking Sustainability: A Strategic Financial Model for Christian Schools," "Rethinking Strategic Planning for Christian Schools," and "Rethinking Discipleship: Why Christian Schooling Matters." He is also a co-founder of ACSI's Leadership University.

Learn more about Dr. Pue by visiting The Barnabas Group website.