In Memoriam: Dr. Paul Kienel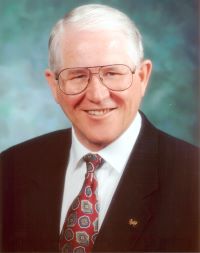 Along with the rest of the Association of Christian Schools International (ACSI) family, I mourn the passing of our founder and brother in Christ, Dr. Paul Kienel, who has gone home to be with the Lord. Dr. Kienel was a true hero of the faith and of Christian education and left a long-lasting legacy not just at ACSI, but worldwide. In founding ACSI and in the years since, he impacted the lives of tens of thousands of Christian school leaders across the globe.  His imprint on Christian education will continue to influence countless teachers, administrators, and most importantly students for years to come.
I had the privilege of serving alongside Dr. Kienel for several years as an ACSI Board member and currently as the chairman of the board. His words of wisdom and advice at critical moments infused confidence and reassurance on key decisions. But he was just as likely to add humor to the process which helped take the edge off things. In fact, his wit and humor were legendary! Anyone who knew Paul has a personal story to tell of how he inspired them or gave them hope and encouragement at just the right time.
The sun may have set on Dr. Kienel's time here on this earth, but the Lord has used him to bring honor to His name. I am grateful for his work, and we at ACSI will continue to honor his legacy as we seek to strengthen Christian schools and equip Christian educators worldwide as they prepare students academically and inspire them to become devoted followers of Jesus Christ.
In the end, Jesus is the hero in all our stories, and Paul will now receive his crown of glory and hear the words, "Well done, my good and faithful servant."


Robert "Bo" Gutzwiller
Chairman, ACSI Board of Directors
We would like to invite you to share a memory, a thought, or a prayer with Dr. Kienel's family. If you are an ACSI member (or have an account with us), please click the link and use your login to access. If you have not posted with us before, please take just a moment to create an account first when prompted. Thank you for taking the time to share your stories!