Creative Writing Festival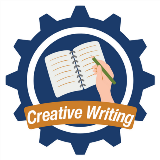 In addition to celebrating the talents of emerging young writers, the Creative Writing Festival provides students with the opportunity to receive valuable feedback as they are encouraged to develop their writing skills.
Students submit creative writing pieces for evaluation. Two judges, provided by participating schools, evaluate each work submitted based on a rubric. Students are awarded based on their scores and receive evaluative comments from each judge.
Students in Grades 4–12 from ACSI member schools may participate. Each registered school may submit a maximum of 24 entries. We encourage you to spread those entries evenly between grade levels and categories.
All Creative Writing Festivals are digital in 2023-24. The Creative Writing Festival Submissions Deadline on the ACSI Student E-vents portal is February 23, 2024.
Categories
Free Verse Poetry
Rhymed Poetry
Essay
Short Story
Song Lyrics
Playwriting
Adjudication & Awards
Two judges will evaluate each entry. It is suggested that each school have a festival of its own and send only the best works to the ACSI Creative Writing Festival.
Entries are adjudicated based on a rubric rather than in direct comparison to other works. Superior, excellent, and good scores are awarded with ribbons.
Registration & Fees
School Registration Fee: $85 by October 13, 2023 ($105 after deadline)
Student Participation Fee: $15 per entry by February 23, 2024 ($5/student late fee after deadline)
For additional information, please contact a Student Leadership & Learning team member.
Interested in Hosting This Event?
Click below to view event-specific details. For general Host/Chair information and the opportunity to volunteer, please click here.