Accreditation & Certification
Accreditation with ACSI engages schools in a vigorous, holistic process of organizational appraisal and improvement that engages every school constituent. Our program is a highly regarded Christian program for member schools. We have partnerships with all of the U.S. regional accreditation agencies and offer joint accreditation with numerous accrediting organizations.
Every step in our accreditation process is designed to be useful for driving improvement in private schools. If you are striving for excellence based on a solid Christian philosophy of education, consider exploring our program.
The purpose of ACSI Certification is to strengthen Christian schools by credentialing educators who meet established professional and biblical requirements. ACSI Certification promotes continued professional learning and increased effectiveness. Establishing and maintaining the certification of staff and administration is an essential step toward professional credibility and growth. Education is a process. Just as we encourage our students to grow and become life–long learners, we want to set the same example as their teachers and leaders.
ACSI certification establishes a framework for professional growth to occur over time, just like continuous school improvement.
Personnel Resources for Christian Schools




A Resource for Interviewing, Contracting, and Evaluating School Personnel
More Info
Purposeful Design Publications Introduces New Science Grade 1 Textbooks
Jan 26, 2021, 16:24 PM by Caitlyn Berman (Caitlyn_Berman@acsi.org)
Colorado Springs, Colo., Jan. 26, 2021— Purposeful Design Publications is launching
Grade 1 Elementary Science, 3rd Edition
, available for the 2021/22 school year.
This third edition incorporates STEM and cross-curricular extension activities, engineering design processes and more according to the latest college and career readiness standards, including NSES and NGSS coding for each lesson.
According to Chris Marchand, Vice President of Purposeful Design Publications, the additional improvements to this edition include differentiated instruction ideas, hands-on learning activities and critical thinking questions based on Bloom's taxonomy. It is also an important tool for the development of a biblical worldview for students.
"ACSI is committed to advancing Christ-centered thinking for the next generation. This third edition will help students build a strong biblical worldview foundation by answering critical questions such as "Who is God? Who is man? And what is the nature of the world around you?" Marchand said.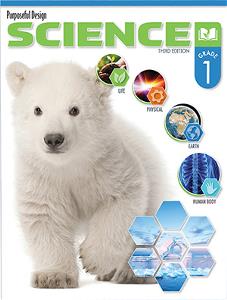 The
Grade 1 Elementary Science, 3rd Edition
teacher and student textbooks are now available for purchase at
purposefuldesign.com
. Release plans for future grades are scheduled for subsequent school years— Grade 2 in 2022/23 and Grade 3 in 2023/24.
According to sales data, historically, PDP's Science textbooks have been most popular, falling second only to the Bible textbook series.
Dr. Jenny Sue Flannagan, Associate Professor and Director of Student Teaching at Regent University, thinks the lessons are both engaging and practical.
"For a teacher who may be unsure of how to integrate faith with science, this text does a great job of providing resources to help any novice teacher feel comfortable and confident," she said. It does "a great job of explaining to a teacher how the science and faith connects."
About PDP:
Since the mid-1980s, Purposeful Design Publications (PDP), a division of the Association of Christian Schools International (ACSI), has provided resources and assessments, including academically rigorous textbooks that are intentionally rooted in biblical truth to equip schools and educators with the tools to eternally transform the hearts and minds of children.
Follow PDP on Facebook at https://www.facebook.com/ACSIPDP/ or on Instagram @pdppublications.
About ACSI:
Headquartered in Colorado Springs, Colo., ACSI exists to strengthen Christian schools and equip Christian educators worldwide as they prepare students academically and inspire them to become devoted followers of Jesus Christ. ACSI advances excellence in Christian schools by enhancing the professional and personal development of Christian educators and providing vital support functions for Christian schools through multiple services including teacher and administrator certification, school accreditation, legal/legislative assistance, and curriculum publishing. Serving more than 25,000 schools in 108 countries, ACSI helps more than 5.5 million students worldwide connect to Christian education.

Follow ACSI on Facebook at https://www.facebook.com/ACSIUSA or on Twitter at @ACSIUSA.