Fall Events for the FY22-23 School Year
ACSI Home
/
Fall Events for the FY22-23 School Year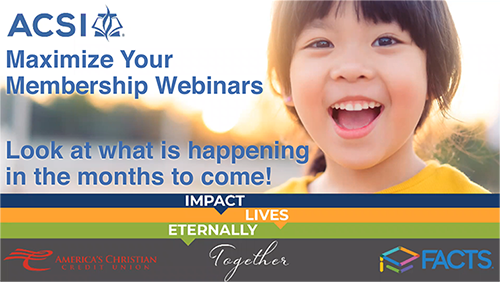 As you gear up for another school year, ACSI invites you to mark your calendar and plan to attend the many ACSI events and experiences in the United States possible. Click below to learn dates/times/locations for each offering.

Early Education: Cultivating Resilience
Learn to soar higher and cultivate resilience in yourself and the young hearts you serve through in-person and virtual conferences this coming school year.
The Flourishing Schools Institute is a professional development opportunity for school leaders who want to transform their school culture to flourish. Many leaders attend and then come back with more team members to gain perspective and glean insight for their school culture. Learn more about the November experience in Atlanta or the March experience in Kansas City.
Flourish Deeper: Sustainability
Spend one day digging deeper on the Expertise and Resources Flourishing domain by learning how to respond adaptively to challenges and missional opportunities that any school
HR and Employment Law for Christian Schools
A common challenge for Christian schools is the ability to keep up with all the laws that impact recruiting, interviewing, and hiring employees. This event is designed to help Christian school leaders negotiate the complex process of Human Resources and Employment laws.
Leadership Network Divisional Meetings
Connect with Christian school leaders in your area as we prepare to tackle a new year of growing stronger together advancing Christ-centered education.
Maximize your calendar, your time, and your knowledge with multiple days of learning about key topics for Christian Schools. Topics can include Early Education, HR Law, and Flourish Deeper.
Public Policy & Advocacy Summit
Travel to Washington D.C. September 19-21 to engage with senators and state representatives, attend policy briefings, learn how to influence your elected officials, and train in crisis communication.