ACSI's Foundational 3 Pillars:

Leading Christ-centered education toward excellence and flourishing
We want all schools to aspire to, achieve, and remain committed to a biblically-based philosophy of education, standards that are measurable, and flourishing-related criteria. ACSI strives to lead, support, and serve Christian schools, and educators, by placing them on a path of growth and flourishing using the research-based Flourishing Schools Initiative. This model should link leadership and faculty professional development accreditation, and every culture-driving component of a school. A common philosophy, and a flourishing-based metric, would unify our efforts of advancing Christian schools and educators.

Making Christ-centered education available and obtainable
ACSI is committed to making Kingdom education available to as many children and families as desire it, believing that such an education offers students an opportunity to grow in a loving relationship with their Creator, come to know His saving work through Jesus, and flourish in His Ephesians 2:10 calling for their lives. This commitment requires removing barriers to access for those who traditionally have not benefited from Christian school, as well as seeking out new ways to create access points to Kingdom education and the ability to thrive and be successful in that education—for all those who desire it.

Promoting and protecting Christ-centered education for today and tomorrow
As the largest evangelical Christian school association in the world, ACSI is by default viewed as the spokesperson for Christian schooling in the public square. In order to discharge this responsibility with excellence and seasoned speech (Colossians 4:6), and to equip our member schools to do the same, ACSI must invest in developing public-facing resources and forming strategic relationships with those working in the area of advocacy for Christian Education and for religious liberty.
SCHOOL LEADERSHIP | OCTOBER 19, 2021
The Heart of Successful Succession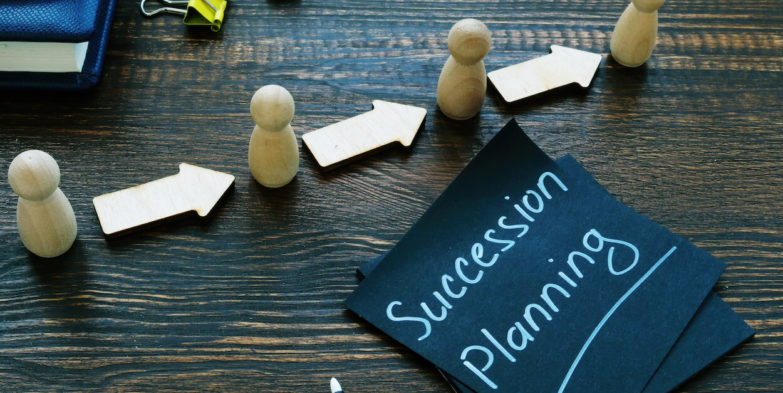 PETER GREER
In Japan, there is a hotel called Nishiyama Onsen Keiunkan that is built around healing hot springs. This hotel has been operating continuously since 705 A.D., making it the longest continuously running hotel in the world. Even more impressive is that this hotel has been run by the same family for fifty-two generations. They have discovered a way to protect the mission, pass on leadership, and see their tenure as only a small part of a much longer and more significant history.
SCHOOL LEADERSHIP | OCTOBER 5, 2021
One for the Record Books
JAY FERGUSON
To say the past 18 months have been challenging for school leaders would be a gargantuan understatement. Perhaps for the first time in my career, every school leader I know would agree. The divisive triad of COVID, racial conflict, and political polarization settled on our nation and in our churches and schools. The triad has conspired to sear our collective conscience. Many of us have lost friends and loved ones; we have either lost jobs ourselves or had friends who did. And, we have experienced temptation toward frustration, anxiety, and depression as we have all faced attacks from our own people over masking, whether and under what conditions our schools would be open, or whether they should be open. We've been called too progressive and woke (whatever that means), too conservative and out of touch (whatever that means), sometimes by the same people in the same week, and been subjected to countless spiritual litmus tests based upon our politics by folks who have hopelessly conjoined the two. We're all pretty tired.
Your new easy-to-use Community opens the door to ideation, collaboration and innovation with your peers around the world making us all Stronger Together. Take a moment to check out the community!
ACSI Leaders, Administrators Engage in Advocacy Opportunities in Nation's Capital
Sep 22, 2021, 11:02 AM by Caitlyn Berman
The Association of Christian Schools International (ACSI) welcomed more than 30 Christian school administrators from 14 states to its annual National Legislative Conference that took place Sept. 13-15, 2021, in Washington, D.C.
The event, organized by ACSI Director for Government Affairs P. George Tryfiates, provides insight into current legislative issues and trains Christian administrators to engage in advocacy with their elected leaders through sessions led by expert speakers. The conference culminates with opportunities for administrators to meet with their congressional leaders to discuss these issues.
School leaders joined with the ACSI Legal Legislative team to hear from speakers including Senator James Lankford (R-Oklahoma), Jim Neill, Policy Advisor in the Office of Senate Minority Leader Mitch McConnell (R-Kentucky) and Mike Farris, President of Alliance Defending Freedom.
ACSI Vice President of Public Policy and General Counsel Stephen Novotny, who oversees ACSI's Legal & Legislative Issues Department, believes that training Christian school leaders on public policy issues— especially those affecting religious liberties and education— is imperative.
"Our administrators now more than ever can only benefit from joining together in representing and advocating on behalf of Christian education," he said.
ACSI President Dr. Larry Taylor also spoke at the conference and met with the board of directors of the Council for American Private Education (CAPE) and other D.C.- based advocacy organizations while in the nation's capital.

ACSI VP of Public Policy and General Counsel Stephen Novotny, ACSI President Dr. Larry Taylor, Jennifer Marshall Patterson, Director of the Institute of Theology and Public Life at Reformed Theological Seminary, and ACSI Director for Government Affairs P. George Tryfiates.


"It's inspiring to see how ACSI is strengthening and serving our school leaders in the areas of advocacy and public policy," Taylor shared. "We have prioritized equipping these leaders with the knowledge and understanding they need to be effective in representing Christian education."
ACSI Board Chair Dr. Jay Ferguson also traveled to Washington and participated on a panel at the Heritage Foundation, discussing issues regarding religious liberties and education. The panel discussion focused on the book, "Religious Liberty and Education: A Case Study of Yeshivas v. New York," which Ferguson contributed to and ACSI Director of Research Dr. Matthew Lee edited.
"The discussion at the Heritage Foundation was mainly about parents' rights to choose their childrens' education, and religious liberties of individuals and institutions in the K-12 educational context," Ferguson said. "It's an important discussion—one that I look forward to continuing in the coming months."
Other speakers at the National Legislative Conference included Jennifer Marshall Patterson, Director of the Institute of Theology and Public Life at Reformed Theological Seminary in Washington, D.C., and Greg Baylor, Senior Counsel at Alliance Defending Freedom.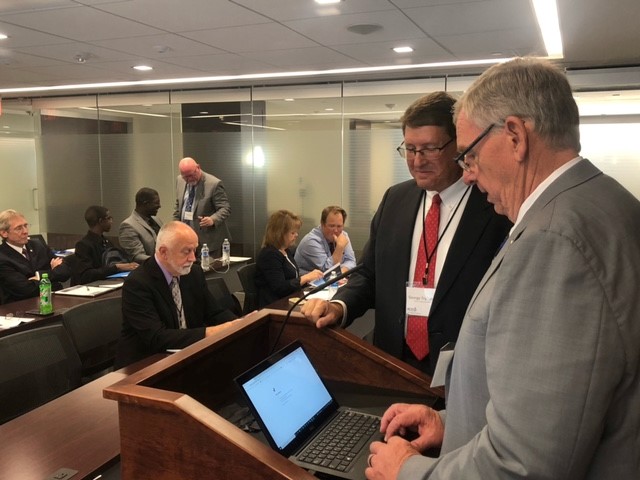 ACSI Director for Government Affairs P. George Tryfiates and ACSI Chief of Staff Dr. Tom Cathey prepare to brief attendees at the National Legislative Conference.


While the next ACSI National Legislative Conference is scheduled to take place in September 2022, the ACSI Legal & Legislative Issues Department will continue to advocate on behalf of Christian education and provide ongoing support to member schools. More conference details will be posted on the ACSI website.