ACSI Leadership Legacy Fund | Impact

Leadership Legacy
It is no secret that Christian education is a powerful means of evangelizing and discipling new generations of Christ followers. It provides students with the opportunity for quality academics and hope through the gospel. Since its founding, the Association of Christian Schools International (ACSI) has been on mission to strengthen Christian schools and equip Christian educators worldwide as they prepare students academically and inspire them to become devoted followers of Jesus Christ.
The driving force behind ACSI's mission is the remarkable, passionate, and committed service of our global leaders. Their ability to inspire, strategize, and drive collective progress across a multitude of cultural contexts sets our mission apart, and has a profound impact on millions of young lives around the world.
ACSI believes that it is critical to empower our global leaders not only to steer projects and provide resources, but also to nurture talent and foster innovative and collaborative educational environments. The Leadership Legacy Fund is designed to support this vision.
ACSI's Leadership Legacy program strategically identifies, equips, and empowers key leaders to lead the Christian schooling movement within their own cultural context. Currently serving across six global divisions, ACSI's global leaders provide mentorship, training, resources, and encouragement to thousands of Christian schools worldwide. They are positioned to have a strong and lasting impact on Christian schools, educators, students, families, and communities in every region they serve – just like the Principe de Paz School in Guatemala.
Lasting Impact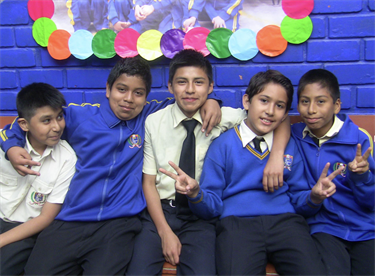 Located in a small, low-income community, Principe de Paz School (PPS) has been faithfully serving the children and families in their area for many years. Despite their passion for Christian education, the school was on the verge of closing due to a lack of resources. It was at this critical moment that the school was connected with our ACSI team in Guatemala. Our team was able to step in and provide the crucial support needed to keep the school open and growing.
In partnership with ACSI, PPS was able to build a stronger leadership foundation, expand their educational resources, and improve their overall financial stability. Today, PPS is one of the top-performing ACSI schools in Guatemala, providing hundreds of low-income families with a strong Christian education. Schools like PPS are at the heart of our mission, and by working together, we can advance Christian education and inspire the next generation of devoted Christ followers.
This transformative work is made possible by the Leadership Legacy Annual Fund and individuals like you who invest in our global leaders.

The Story Continues
To learn more about what God is doing through our mission and the impact it's having on millions of students globally, please visit ACSI.org/stories.
We look forward to sharing more incredible stories of God's faithfulness in the coming weeks as a result of your generosity to the Leadership Legacy Annual Fund and more. For more information about being one of our ACSI Champions, and discovering additional ways to stay connected, please visit ACSI.org/audiences/champions.