Ukraine Assistance Update | May 2023

THANK YOU
As we reflect on the past year, we are grateful for the incredible provision and protection that God has bestowed upon our Christian schools in Ukraine. Despite the challenges and uncertainties, we have seen His hand at work in countless ways. Your prayers and support have sustained many Christian schools, educators, students, and communities through this difficult season. We thank God for His mercy and grace, and we thank you for your continued support.
A Safe Haven at Academy of Wisdom Christian Lyceum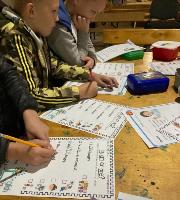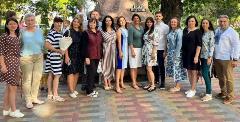 Due to the displacement or forced migration of countless families to safer areas when military conflict escalated in February 2022, normal school operations were paused throughout Ukraine. Still today, many Ukrainian lyceums (schools) have been unable to fully resume since the majority of students have yet to return to their hometowns. Even so, schools like the Academy of Wisdom Christian Lyceum in Bucha, Ukraine, remain committed to their school families and do all they can to provide a safe haven for their students and staff. For those in their community who have returned safely, the Academy of Wisdom organizes monthly in-person gatherings that provide valuable moments of normalcy and fellowship.
These moments give Director Alina Tomas hope, as she dreams of the day when all the school's students and employees will return home. Tomas reflects, "We believe that soon the war will end and we will be able to work as usual, side by side with each other. We believe that we will once again be able to continue building our school together. And we believe that God is with us!"
Going Above and Beyond at "Sofia" Christian School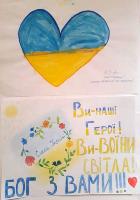 The "Sofia" Christian School in Cherkasy, Ukraine, also remains dedicated to supporting their school's staff and families whose fathers, husbands, sons, and brothers are currently serving on military assignments in active combat zones. Faced with the reality of war so personally, the school is committed to finding practical ways to support their staff and families involved in the crisis and lifting them up in prayer. During craft lessons every week, "Sofia" teachers, students, and parents take time to create art and write notes of encouragement for those serving. Director Natalia Yevtushenko shares, "Knowing that the Lord is the answer to all these needs, we rejoice that we can be a part of His plan to share His goodness and the principles of His Kingdom."
Christian Schooling in the Midst of War
We invite you to watch the following video from the International Alliance for the Development of Christian Education in Ukraine (Association of Christian Schools). It truly demonstrates the resilience, determination, and strength of Ukrainian Christians.
Ukrainian Christian Schools in the Midst of War 4/24/2023 from ACSI on Vimeo.
YOUR SUPPORT MATTERS
Thanks to the financial support of generous donors, schools in Ukraine, including the Academy of Wisdom and "Sofia" Christian School, have been able to remain open and available to meet the unique needs of their school communities throughout this ongoing crisis. This support has enabled them to purchase new generators to keep power on in their school buildings, pay the salaries of dedicated teachers and staff, cover the cost of tuition for students who otherwise couldn't afford to remain in school, and connect families to the internet so their kids can continue learning remotely. However, these needs are ongoing, and every dollar is being used to meet critical and sustaining needs.
Thank you for prayerfully considering providing additional support for our schools in Ukraine.
YTD Ukraine Assistance Fund Statistics
$136,041
Total Contributions
50+
Total Schools that have Received Financial Support
Over 5,000
Total Students Directly Affected by Financial Support
Immeasurable Total Kingdom Impact!
"We express our sincere gratitude to you for the fact that in such a difficult time for our country, you were able to support us by providing financial assistance. May the Lord generously bless you in your service and everyday life. Peace and God's protection to you!"
- Alina Tomas, Director, Academy of Wisdom Christian Lyceum, Bucha, Ukraine