Association of Christian Schools International (ACSI)
Stronger Together
Welcome to Stories
Maui Schools Open Arms in Aftermath of Tragedy
With fires ravaging Maui in August, families scrambled for safety. The losses were massive in both lives and property.
For Christian schools on the island, there was reason to mourn the suffering of their students, but also an opportunity to serve.
"Since the start of the fires, our team at school immediately began to consider how we could excel at educating and caring for our families in the midst of the horrific tragedy," said Jimmy Fitt, K-8 Principal at Doris Todd Christian Academy.

Featured Event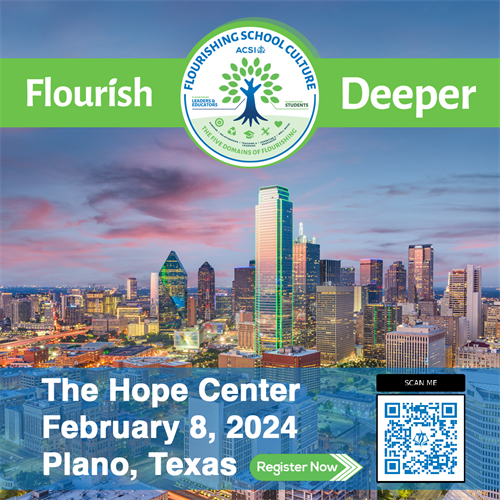 Join us for Flourish Deeper, February 8, 2024!
Flourish Deeper is a one-day professional development event on February 8th in Plano, Tx where we'll be digging deeper into Spiritual Formation and learning about the NEW Flourishing Faith Index. Understanding what flourishing faith in Christian schools looks like, how students grow in their faith, and how Christian schools help nurture and promote spiritual growth is a primary and foundational issue. To register, visit:
Additional Upcoming ACSI Events:
Blog
Good Growth: A Tool for Sustaining Your School's Vision
Shaun Brooker | December 4, 2023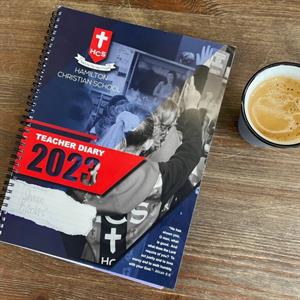 At the close of 2019, Hamilton Christian School was on the precipice of significant growth. As the leader of two previous schools that had grown significantly, I was well aware of the excitement that growth would bring. However, I was also very aware of the challenges it could bring, as well.
Podcast
"The Open Generation": New Barna Research on Today's Teens
Lynn E. Swaner and David Kinnaman | August 15, 2023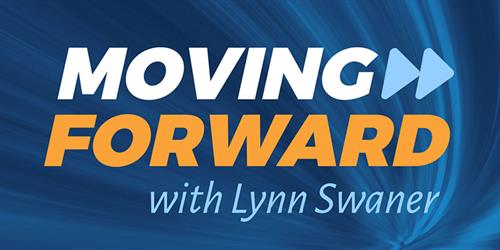 In this podcast, Dr. Lynn Swaner interviews Dr. David Kinnaman, President of the Barna Group, on a new research project on today's teens. As a partner in the research, ACSI is working with Barna to apply this research in the Christian education context and deliver insights to Christian school educators all over the world. Called "The Open Generation," the research reveals how today's teens are open to Jesus and the Bible, and how Christian adults are greater influences in their lives toward faith than anything else. Dr. Kinnaman shares how this is encouraging news for Christian school leaders and teachers as they educate, disciple, and influence today's teens.
Stay Informed on ACSI's Events and Resources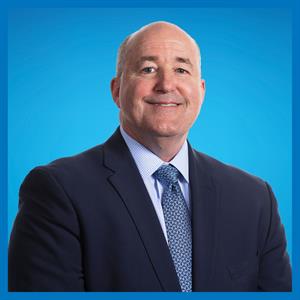 President's Office
"I can think of no greater cause than to partner with you to advance Christ-centered education." Dr. Larry Taylor, ACSI President & CEO
Dr. Taylor has been serving in education for over 30 years. He is passionate about training up this generation of disciples for Jesus Christ through Christian education.
Prior to accepting the President position at ACSI, Dr. Larry Taylor served twenty years as the Head of School at Prestonwood Christian Academy (PCA) in Plano, Texas. Prestonwood Christian Academy serves more than 1,600 students enrolled at four campuses as part of its school system.
Click the link below to read more.
ACSI's Mission
ACSI exists to strengthen Christian schools and equip Christian educators worldwide as they prepare students academically and inspire them to become devoted followers of Jesus Christ.
ACSI's Foundational 3 Pillars

Advancing
Leading Christ-centered education toward excellence and flourishing
We want all schools to aspire to, achieve, and remain committed to a biblically-based philosophy of education, standards that are measurable, and flourishing-related criteria. ACSI strives to lead, support, and serve Christian schools, and educators, by placing them on a path of growth and flourishing using the research-based Flourishing Schools Initiative. This model should link leadership and faculty professional development accreditation, and every culture-driving component of a school. A common philosophy, and a flourishing-based metric, would unify our efforts of advancing Christian schools and educators.
Access
Making Christ-centered education available and obtainable
ACSI is committed to making Kingdom education available to as many children and families as desire it, believing that such an education offers students an opportunity to grow in a loving relationship with their Creator, come to know His saving work through Jesus, and flourish in His Ephesians 2:10 calling for their lives. This commitment requires removing barriers to access for those who traditionally have not benefited from Christian school, as well as seeking out new ways to create access points to Kingdom education and the ability to thrive and be successful in that education—for all those who desire it.
Advocacy
Promoting and protecting Christ-centered education for today and tomorrow
As the largest evangelical Christian school association in the world, ACSI is by default viewed as the spokesperson for Christian schooling in the public square. In order to discharge this responsibility with excellence and seasoned speech (Colossians 4:6), and to equip our member schools to do the same, ACSI must invest in developing public-facing resources and forming strategic relationships with those working in the area of advocacy for Christian Education and for religious liberty.

The ACSI Community online forum exists to provide connection, collaboration, and networking with Christ-centered education advocates, educators, and influencers in a protected online environment.
ACSI Community offers Christian educators opportunities to Connect, Collaborate, Compel, Captivate, and Comprehend. Join thousands of like-minded education professionals around to globe to grow in knowledge, sharpen skills, and deepen your faith, in a safe, authentic virtual environment.

ACSI provide helpful tools for you to find the next position God has for you through a resume review search and career planning portal. You can also discover ACSI positions.
Thinking about serving internationally? PFO2Go will provide the confidence to enter a new culture in which to both work and live outside the United States. Also, don't miss the International Schools Job Fair.
ACSI Remains Committed to Strategic Vision for 2030, Expanding Access to Christian Education to Hundreds of Children Globally
Oct 30, 2023, 09:25 AM by Caitlyn Harding
Colorado Springs, CO– The Association of Christian Schools International (ACSI) is continuing the course of its strategic plan, casting a vision for 2030. The plan will position ACSI to provide more children with access to Christian education globally while strengthening the organization's missional partnerships with other top-performing companies to better resource schools worldwide.
ACSI President & CEO Dr. Larry Taylor shared the foundational work that shaped this vision.
"In 2018, ACSI leadership embarked on creating a strategic plan, ultimately resulting in three foundational pillars of Advance, Access and Advocacy," he said. "We are seeking God's direction on how we could go deeper between now and 2030. We have diligently spent 18 months in prayer and having critical conversations with our senior leaders. These conversations have resulted in the creation of four new growth initiatives to hone this God-sized vision into tangible, Christ-honoring tactics."
The four new growth initiatives include: New Fields for Ministry—positioning ACSI to serve newly ripened fields of opportunity for children to access Christ-centered education; Missional Partnerships—connecting ACSI with other organizations to leverage resources for a greater missional impact; Educational Resources & Programs—addressing the need for high-quality, biblically based educational resources and programs across the world; and Teacher and Leader Pipeline—addressing the current worldwide teacher shortage, as well as meeting future needs for more credentialed teachers and qualified leaders who are biblically trained for educational ministry.
Taylor also referenced staff organizational changes designed to support Vision 2030.
"We are not only focused on equipping our educators," he said. "But we are committed to partnering with other leading organizations and ministries who can come alongside our schools with the tools they need to navigate an ever-changing educational terrain."
ACSI Senior Director of the Eastern Division Chuck Gilliam's role will expand to oversee strategic alliances. This will allow the organization to align with like-minded entities that are already specialized and established in their respective ministry fields, better serving Christian schools worldwide.
In addition, several staff members will oversee new responsibilities as well.
Susan Verheul, ACSI's former Director of Finance and Controller, has been named Vice President of Executive Initiatives. In her new role, she will oversee global projects and business development models.
John Shook, ACSI's former Senior IT Network Administrator, will now serve as Director of IT Infrastructure. Jamie Canterbury, formerly a Division Director of Accreditation, has been named ACSI Director of Accreditation, USA. Gavin Bretteny, ACSI Associate Vice President of Global Strategic Development, will now serve as ACSI Vice President of Global.
"It's exciting to see what the Lord is doing in and through ACSI," Taylor said. "We will continue serving our schools to the best of our ability. These organizational changes are key in moving ACSI towards our vision for 2030 as we grow, expand, and serve the diverse needs of our schools."

To learn more about Vision 2030, visit the website.
About ACSI:
Headquartered in Colorado Springs, Colorado, ACSI exists to strengthen Christian schools and equip Christian educators worldwide as they prepare students academically and inspire them to become devoted followers of Jesus Christ. ACSI advances excellence in Christian schools by enhancing the professional and personal development of Christian educators and providing vital support functions for Christian schools through multiple services including teacher and administrator certification, school accreditation, legal/legislative assistance, and curriculum publishing. Serving more than 25,000 schools in 108 countries, ACSI helps more than 5.5 million students worldwide connect to Christian education.
Follow ACSI on our social channels: Facebook | Twitter | Linkedin | Instagram | YouTube
Strategic Partners
ACSI proudly presents the Strategic Partnership Program, which includes companies, organizations, and ministries who have been carefully chosen to benefit you—our member schools—and to assist you in accomplishing your life-changing mission.