At this moment, somewhere around the world, a child is flourishing in a school that is a part of the Association of Christian Schools International. Seeds of everlasting truth are being planted in her heart as the academic knowledge she receives is preparing her for a lifetime of learning, growth and service.
Millions of other children are impacted in similar fashion every single day. Would you like to be an active participant in their transformation? When you become a member of ACSI, you join a global movement through which God speaks life and biblical truth into the hearts of the next generation.
I invite you to team up with ACSI in the work to which God has called us. Become a part of something that has eternal significance as children's lives are being changed worldwide.
Larry Taylor, Ph.D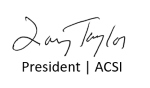 Learn more about ACSI Membership with no obligation. When you submit your information, you'll receive a free digital copy of Mindshift: Catalyzing Change in Christian Education.
Membership is available annually during each school year, providing access to several benefits and discounts on other valuable services and resources.
Contact the ACSI Care Team to learn about special promotions or for assistance.
Click the button below and log in to your ACSI account to renew your current membership for the 2021-2022 school year.
Contact the ACSI Care Team to learn about special promotions or for assistance.
Note: Only school administrators have access to renew membership.
When you refer a friend to ACSI Membership and their school becomes a member, your school will receive $200 toward ACSI resources or events! Invite a friend to
learn more
today as we are stronger together.
Maximize Your Membership Webinars
ACSI is helping our members make the most out of their membership through monthly webinars. Maximize Your Membership is a 30 minute webinar the third Wednesday each month.
ACSI Announces Changes to Senior Leadership Team, Eastern Division

August 25, 2020

ACSI is pleased to announce the promotion of Dr. David Balik to the position of Vice President of USA. Balik most recently served as ACSI's Senior Director, Eastern Division and Southeast Regional Director for five years.

ACSI Appoints New VP for Public Policy, General Counsel

August 18, 2020

ACSI is pleased to announce the appointment of Stephen Novotny as its new Vice President for Public Policy and General Counsel. Combining his unique background in both the legal profession and Christian school administration, Novotny will focus on protecting and promoting the interests of ACSI and its member schools.

ACSI releases findings from nationwide survey of Christian schools' reopening plans and outlook for the fall

August 12, 2020

The Association of Christian Schools International is pleased to announce the release of data from its second nationwide survey of Christian schools' responses to the COVID-19 pandemic, with a specific focus on reopening plans and the financial outlook for fall 2020. Nearly 550 Christian schools representing diverse geographic locations and school sizes responded to the survey, which was conducted in late July.