At this moment, somewhere around the world, a child is flourishing in a school that is a part of the Association of Christian Schools International. Seeds of everlasting truth are being planted in her heart as the academic knowledge she receives is preparing her for a lifetime of learning, growth and service.
Millions of other children are impacted in similar fashion every single day. Would you like to be an active participant in their transformation? When you become a member of ACSI, you join a global movement through which God speaks life and biblical truth into the hearts of the next generation.
I invite you to team up with ACSI in the work to which God has called us. Become a part of something that has eternal significance as children's lives are being changed worldwide.
Larry Taylor, Ph.D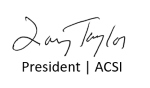 Learn more about ACSI Membership with no obligation. When you submit your information, you'll receive a free digital copy of Mindshift: Catalyzing Change in Christian Education.
Membership is available annually during each school year, providing access to several benefits and discounts on other valuable services and resources.
Contact the ACSI Care Team to learn about special promotions or for assistance.
Click the button below and log in to your ACSI account to renew your current membership for the 2021-2022 school year.
Contact the ACSI Care Team to learn about special promotions or for assistance.
Note: Only school administrators have access to renew membership.
When you refer a friend to ACSI Membership and their school becomes a member, your school will receive $200 toward ACSI resources or events! Invite a friend to
learn more
today as we are stronger together.
Maximize Your Membership Webinars
ACSI is helping our members make the most out of their membership through monthly webinars. Maximize Your Membership is a 30 minute webinar the third Wednesday each month.
ACSI and Ron Blue Institute Partner to Offer Biblical Personal Finance Course to Christian School Students
Jan 27, 2021, 14:22 PM by Caitlyn Berman (Caitlyn_Berman@acsi.org)
Colorado Springs, Colo., Jan. 27. 2021 – ACSI and Ron Blue Institute are pleased to announce a new partnership designed to equip junior and senior high school students with a biblical foundation for financial management, enabling them to be wise stewards of their God-given resources.
The Biblical Personal Finance Curriculum is a six-week offering consisting of six modules that will train students in basic financial literacy, including the four uses of money (live, give, owe and grow). Teachers will have access to an online portal providing lesson plans, project outlines, test and quiz questions, and additional materials.
"The most important thing we want every student to walk away with is the understanding of how they work out their faith through their finances," said Ron Blue Institute President, Michael Blue.
The goal of this course is that students' hearts and heads would "intersect so they have the freedom in their checkbook to be free to pursue God and His mission in the world," he explained.
Developed over a three-year period in collaboration with current high school teachers, this curriculum brings to life the concepts of living within a budget, avoiding debt, and growing healthy savings.
Ron Blue, CEO of Ron Blue Institute, believes it is imperative for individuals to get the right perspective on finances. "We have proven that a biblical worldview approach to money and money management works," he said. "We feel the relationship with ACSI is our first significant opportunity to reach into the high school world."
ACSI President, Dr. Larry Taylor, anticipates that this partnership will be key for high school students in their preparation for college and life beyond high school.
"This is ACSI's first time entering into a partnership to offer training specifically designed for equipping students— these young adults—with a biblically-based understanding of finances," Taylor expressed. "I am excited to see the impact this course will have on the next generation."
Both ministries believe in the initiative from a missional standpoint and see the course as a discipleship opportunity with the potential for significant impact.
"We feel that what God has given us is a message that is simple, always relevant and easily repeatable, so that we can show the world that God's word speaks to finances," Ron Blue said. "And, if He speaks to finances, my thought is, doesn't He speak to the rest of our life also?"
This online course will be available to ACSI member schools at
your.acsi.org/rbi
for the special rate of $27.50 per student, including teacher training materials at no additional cost.
To learn more about ACSI, please visit the website at www.ACSI.org or connect with the ACSI Care Team by calling (800)367-0798 or at careteam@acsi.org.
About ACSI:
Headquartered in Colorado Springs, Colo., ACSI exists to strengthen Christian schools and equip Christian educators worldwide as they prepare students academically and inspire them to become devoted followers of Jesus Christ. ACSI advances excellence in Christian schools by enhancing the professional and personal development of Christian educators and providing vital support functions for Christian schools through multiple services including teacher and administrator certification, school accreditation, legal/legislative assistance, and curriculum publishing. Serving more than 25,000 schools in 108 countries, ACSI helps more than 5.5 million students worldwide connect to Christian education.
Follow ACSI on Facebook at
https://www.facebook.com/ACSIUSA
or on Twitter at @ACSIUSA.
About Ron Blue Institute:
Ron Blue Institute exists to help today's Christian students understand how money truly works to confidently integrate their faith into every area of their lives, including finances. Through curriculum, consulting, tools and resources, Ron Blue Institute's mission is to educate and steward students at both high schools and colleges.
For more information on the ministry, visit ronblueinstitute.com or follow Ron Blue Institute on Facebook at
https://www.facebook.com/ronblueinstitute/
or on Twitter at @RonBlueInst.