A Mentor from God for Such a Time as This
A Mentor from God for Such a Time as This
Arguably no educator was left untouched by COVID-19, including Christian educators. For Dr. Julia Lloyd, head of school at Grove Christian School in Richmond, Virginia, the chaos of the pandemic often left her feeling like Elijah in 1 Kings 19.
"Managing a Christian school—which is a school, business and ministry all at once— is always a challenge," she shared. "Adding a pandemic and riots in our city on top of that exacerbated the challenges exponentially."
Assuming the head of school position in 2014, Lloyd was pursuing her dissertation in research on organizational culture and strategic leadership. During one of her qualitative interviews with Rick Yost, superintendent of Fredericksburg Christian Schools, Yost suggested that she pursue ACSI's Leadership U for a mentorship opportunity.
"The pandemic delayed my ability to engage as soon as I would have liked, but Rick was right," Lloyd said. "Leadership U was a continuation of the field I enjoyed during my dissertation process."
The 2021-22 program cohort met in Dallas, Texas in June 2021, with a total of 55 mentors and mentees combined, marking the largest cohort in the program's history.
Over a period of two days, participants heard from expert speakers, networked through roundtable discussions, and created action steps for the next school year.
Lloyd shared how formative the mentor-mentee relationship has been in her own professional development.
"I feel like my mentor was hand selected by God through Leadership U for such a time as this," she said. "Like Elijah after he slept and ate under that tree, I have been ministered to intimately by God through my mentor and that connection makes me feel refreshed."
In the fall, mentors will visit their mentee scholar's school. Together, both have worked to refine the mentee scholar's mission statement and develop action plans. Graduation for the 2021-22 cohort will take place in June 2022 before the Flourishing Schools Institute in Chicago.
To learn more about Leadership U or to apply for the next cohort, visit the website.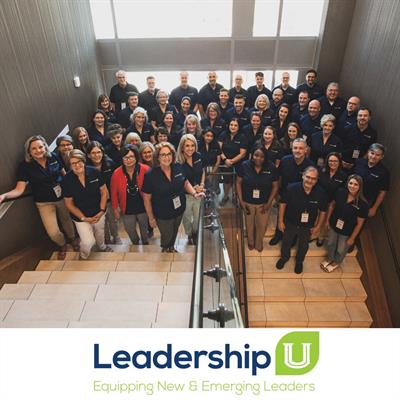 The 2021 Leadership U cohort in Dallas, Texas at the first Flourishing Schools Institute.