Kyiv Christian Academy Graduation Ceremony
Kyiv Christian Academy Graduation Ceremony Hosted by International Christian School in Budapest
High school graduates the world over will soon reach the end of the journey they've been traveling for 12 years. All their efforts have come to fruition. Throughout May and June, seniors are donning gowns and caps, walking across a stage, and taking part in a rite of passage millions have done before them.
A graduation ceremony is something the Kyiv Christian Academy's (KCA) Class of 2022 almost didn't get to experience. Though the path to get to this point for the 12 graduating seniors has been strewn with obstacles, God cleared a route and created an opportunity through the help of another ACSI member international school.
During the KCA Class of 2022's sophomore year, the Covid-19 pandemic appeared out of nowhere, impacting the entire world. KCA's teachers and students were forced to learn a new, unfamiliar way of learning on the fly. KCA adapted, and the academic year was completed remotely.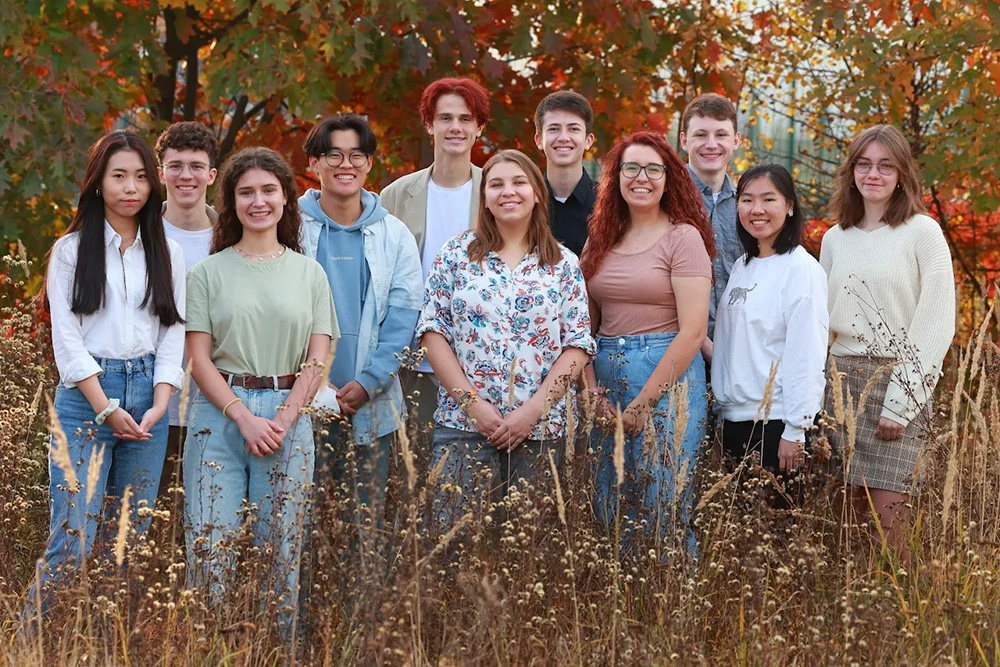 Things at KCA were mostly back to normal by last fall. The 12 graduating seniors scanned the horizon and could see that their destination coming into clearer focus. Then, when they were so close to the journey's end, war broke out when Russia attacked Ukraine on February 24.
Understandably, everything became quite hectic at KCA, according to Eric Moore, the secondary school principal. The entire school community immediately shifted their focus from learning to the safety and needs of employees and students and their families. Administrators were not sure if they would be able to continue operating in any capacity the last few months of the school year.
Within weeks, teachers and students had evacuated KCA and Kyiv. After the school community settled in safe locations, KCA was able to utilize their online school processes that had been established during the Covid pandemic so students could finish the semester.
At this point, Moore and other school leaders began exploring the question of graduation. Conversations with graduating families revealed that 10 of the 12 seniors could attend a ceremony in Europe. Administrators reached out to three schools and ultimately chose International Christian School in Budapest (ICSB), whose leadership was more than willing to host the graduation ceremony.
Moore described ICSB as "like a sister school" to KCA, an "extended family." (KCA and ICSB are ACSI member international schools.) Many families from both schools know each other because of connections through missions organizations; about 60% of KCA's 150 students are missionary kids.
Both schools' students also know each other through basketball tournaments and have a friendly, but intense rivalry that dates back several years. Moore said that a highlight every year is the basketball tournament in Budapest in February, an event that has bonded the school communities together.
The graduation ceremony for the KCA seniors will take place at ICSB on May 28. Moore said that ICSB director Kristi Hiltibran and her executive assistant have been "amazing" and KCA truly feels like ICSB is "standing with them."
The KCA seniors will go on a scheduled class trip prior to graduation. This will be an important time for the students to debrief, explained Moore. "It will give them a kind of release from their loss and let them move away with fresh wind in their sails. The juncture between high school and college is dynamic for every student in every situation. It's a rite of passage. For KCA kids it's so much more significant. It's much more final for them. There's no coming home." The class trip will essentially be "a pre-graduation reunion."
Moore hasn't lost sight of "the broad picture of the tragedy of this war." But everyone involved "believes that they [the trip and graduation] are an opportunity to allow our TCKs to come together, to grieve and process, and to find closure and be free to be successful in their next steps. These kids have such a unique experience, and God is using that to create something beautiful and powerful in their lives. This moment is a critical juncture. That is why we are all willing to do so much for this to happen."
After the ceremony, the graduates will disperse across the globe. They will attend universities in Europe, the U.S., Korea, or elsewhere. They may never see each other again. But the Class of 2022 will forever be linked because of their extraordinary experience together, one that might serve to bring their memories into sharper focus years later and cause their bond to be even stronger.
Written by David Harding, ACSI