Public Policy & Legal Affairs
Public Policy & Legal Affairs
Some or all parts of page are a member-only resource.

Not a member? Contact our Care Team to join ACSI.


Darkness to Light Abuse - Prevention Training
ACSI partners with Darkness to Light to offer "Stewards of Children," a child sexual-abuse prevention training program for schools.
Learn More
ACSI identifies, analyzes, and works with a broad array of legal, regulatory, and legislative issues. The team is led by P. George Tryfiates, Vice President for Public Policy & Legal Affairs, who works in Washington, DC on a wide array of legislative and policy matters with a focus on federal issues. Philip Scott, Vice President for Legal Affairs, also in the Washington, DC office, handles a broad range of legal and legislative matters. The team is also joined by Dr. Tom Cathey, Chief of Staff, and Elizabeth Clayton, Public Policy & Communications Assistant. Each year the team produces the Legal Legislative Update, a publication that is mailed to member schools three times annually.


ACSI Public Policy & Advocacy Summit


Washington D.C., September 19-21, 2022
Hosted by ACSI's Public Policy & Legal Affairs team, this year's Public Policy & Advocacy Summit (formerly known as the National Legislative Conference) is a special professional development opportunity which will engage each attendee with key policy updates on federal legislation by special guest senators and representatives. It will also include workshops on:
Crisis Communication and Media Training
Policy briefings from experts on school choice, religious liberty, and much more
How to influence and impact your elected officials and promote policies that support your school
These workshops will be very practical and hands-on. The Summit culminates with each attendee confidently visiting his or her U.S. senators and representative on Capitol Hill. This year's Public Policy and Advocacy Summit will be a one-of-a-kind event!
ACSI Public Policy & Legal Affairs Department is actively looking at issues related to the Coronavirus COVID-19 outbreak that impact Christian education. This page is designed to give you current, relevant information and is updated as new information unfolds.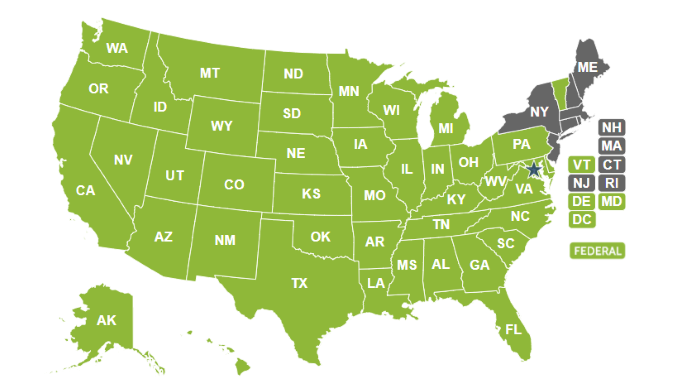 ACSI tracks U.S. federal and state legislative efforts that have the potential to impact your school.
ACSI urges Christian schools to be proactive to protect a space for Christian education and further its goals both nationally and internationally. Follow legislation, key court cases, media and public events.
The Public Policy & Legal Affairs Department has collected nearly 400 articles, checklists, and templates for member school use.
This is a member benefit resource.
Legal Legislative Update (LLU)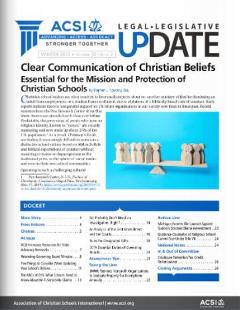 The LLU is a trade journal dedicated to legal and legislative issues concerning non-profit religious education and its related subtopics, with an emphasis in K–12 education.
Check out a sample issue

Legal Legislative Update (LLU)

(This is a member benefit resource)
Legal Defense Reimbursement Program (LDRP)

ACSI has consistently looked for opportunities to assist member schools with practical, affordable services. As a result of seeing member schools face various legal actions involving employees or students, ACSI developed the Legal Defense Reimbursement Program.
Public Policy/Legal Affairs Events
P. George Tryfiates
Vice President for Public Policy & Legal Affairs
P. George Tryfiates is ACSI's Vice President for Public Policy & Legal Affairs in Washington, DC. He has filled multiple roles in public policy throughout his career in D.C., including one as executive director for over 13 years of a national Christian public policy organization and, earlier, as the first full-time executive director of a state-level Christian public policy organization. The latter he helped to transition from its volunteer base in one part of the state to the state capital. George has participated in all aspects of public policy, including nonprofit governance and policy, advocacy, and media. He holds an M.A. in public policy from Regent University. George enjoys history and lives with his wife in historic Fredericksburg where Jefferson crafted his Statute of Virginia for Religious Freedom. They have been married for 33 years and have four adult children who all graduated from Christian high school.
Email Phone: 202.558.7040
Philip Scott
Vice President for Legal Affairs
Philip Scott has worked with ACSI since 2011 and currently serves as the Vice President for Legal Affairs in the Washington, DC office. While he has held multiple roles at ACSI, his current focus is on state advocacy and helping to organize state Christian school voices. Philip's background is a blend of education, religion, and law. Philip is the editor of the Legal Legislative Update and does consultation with schools on legal, legislative and HR issues. He also oversees and administers the LDRP program. He has taught U.S. Government and Civics to middle and high school students in Christian schools. Most recently, he has been a lecturer in undergraduate and graduate programs teaching ethics, nonprofit law and education law. He is twice a graduate of Liberty University with an undergraduate degree in Education and a Juris Doctorate degree from Liberty University School of Law. He has studied theology and law at the Southern Baptist Theological Seminary and is admitted to the bar of Colorado. Philip and his wife, Heather, are outnumbered as they have three children, a dog, and a cat. Heather and Philip met in fifth grade in the Christian school they attended.
Email Phone 202.573.7776