How ACSI Brings Light to the Little Light Christian School in Oklahoma City
February 2, 2023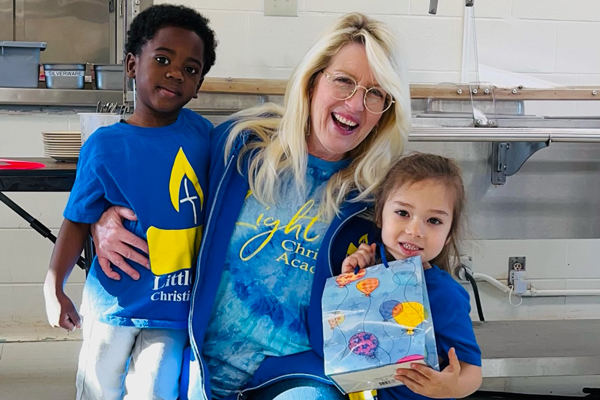 By Rebecca Ewing
February 2, 2023

"How can ACSI serve you?" President Dr. Larry Taylor asked Robin Khoury, the founder of Little Light Christian School (LLCS) in Oklahoma City.

Dr. Taylor has always had a heart for ministering to needy communities in tangible ways, and upon reading about LLCS a couple years ago in a World Magazine article featuring the top ten community service organizations nationwide, he promptly reached out to Khoury to make a Kingdom connection.

He learned from Khoury that the school exists to reach the marginalized population of children who have one or more incarcerated parents. LLCS's goal is to break the cycle of incarceration, and they offer tuition-free enrollment paid for by donations and grants.

Moved by what he had learned, Dr. Taylor extended an invitation to membership with ACSI and a commitment to be in service to the school. The opportunity to help LLCS in a way no one could have imagined happened to be just around the corner.

During the summer of 2022, LLCS's Principal, Kristy Sword, was searching for a new Bible textbook, one she described that would be "engaging and fun for students." During her diligent research, she came across ACSI's Purposeful Design Publications Bible textbook. With its bright colors, engaging stories that build a foundation for faith, hands-on activities, and variety of lesson options for teachers based on the specific task at hand, she was sold. It was exactly what she had been looking for.

Tragically, only a few months after purchasing the new Bible textbooks, Sword and LLCS faced an unforeseen catastrophe. Over Christmas break, the fire sprinkler pipes froze and burst, destroying classrooms and much of the school's textbooks. On the first day back to school in January, in a downsized classroom, a first grader named Elizabeth immediately noticed and commented on the missing Bible timeline.

Returning to school and seeing all the damage right after the holiday season was a shock to everyone at LLCS. With nothing to lose and nowhere else to go, Sword reached out to ACSI's Care Team and received a reply less than 24 hours later. To her great joy and delight, she learned that ACSI was prepared to replace—not just some—but all of the Bible textbooks that had been damaged in the flood. "Wow!" replied Sword in an email. "Praise the Lord! We really appreciate your generous hearts!"

Little Light Christian School will press on with their unique mission of ministering to an underserved—and largely forgotten—population. While there is still much to be done to bring the school back into full working order, there is one less major hurdle to overcome now. And perhaps the students have gained a real-life experience in seeing God's care and provision for them in the midst of hardship.

"Let your light so shine before men that they may see your good works and glorify your Father in heaven," states Matthew 5:16. We have a feeling that Little Light Christian School is much more of a lighthouse shining on a hill than its unassuming name would suggest.