Invest in Christian Education
Invest in Christian Education ACSI is helping to advance Christian education worldwide. We invite you to be part of our story.
Thank you for Supporting Our Mission
Invest in Christian Education
ACSI exists to strengthen Christian schools and equip Christian educators worldwide as they prepare students academically and inspire them to become devoted followers of Jesus Christ.
To accomplish its mission, ACSI relies on the generous contributions of others who also champion Christian education. Would you prayerfully consider joining us in this important work by giving today?
---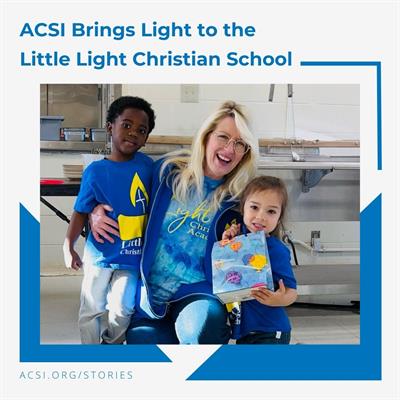 Impact Story
Your support is equipping Christian educators around the world so that they can prepare and inspire the next generation of Christ followers. Robin Khoury is a perfect example of this.

Robin is the passionate founder of Little Light Christian School (LLCS) in Oklahoma City. She started LLCS in order to reach the marginalized youth in her community who have one or more incarcerated parents. Her goal is to break the cycle of incarceration and bring healing back to the families in her community. Robin saw a unique opportunity to meet this goal through Christian education and as a result, she started a Christian school.

Read More

Your support helps make this transformation possible.
Thank you.