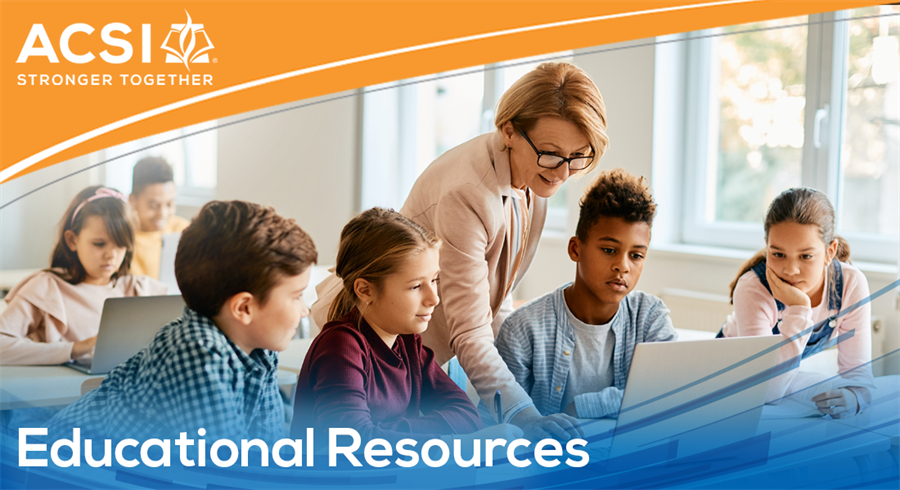 ACSI is living out the Great Commission through Christ-centered education with greater access of resources than ever before for teachers and students.
Here are some of the resources that ACSI is expanding and growing:
---

We have moved our current ConNexus Premium platform to ACSI PD powered by Campus. This upgraded platform will provide well over 500 hours of formal instruction for Christian educators while continuing to add new content.
---

For more than 30 years, Purposeful Design Publications , a division of ACSI, has provided academically rigorous textbooks that are intentionally rooted in biblical truth to equip schools and educators with the tools to eternally transform the hearts and lives of children. Choosing the right textbooks is an important decision, both financially and foundationally.

---

The ACSI Student Assessment Program helps schools blaze a trail of tracking student growth, measuring instructional effectiveness, and optimizing data for the future. ACSI provides the best-in-class assessments with a full-service program that includes discounts, professional development, and program support. Summative and formative as well as college/career readiness solutions are available.
---

For more than 15 years, Sevenstar has partnered with Christian schools and families to provide solid, biblically based academic resources to meet a wide range of educational needs. For students, credit recovery and supplemental learning is available to a full online education. For schools, Sevenstar can come alongside and fill in the gaps on teacher shortages or provide an online option for your school's students.
---
Please pray that:
Students around the world can have access to quality Christian education.
Curricular teams will have creativity and wisdom in instructional design.
Teachers will be equipped with applicable professional development.