Leadership Legacy
One leader can impact hundreds of educators, who transform thousands of students.
ACSI's Leadership Legacy is a vehicle to sustainably aid, train, and equip educational leaders around the world, many of whom are operating with paltry resources. By contributing to this cause, you can create sustainable change not just for the moment, but for generations to come.
Your partnership with Leadership Legacy is not just a simple donation; it is an act of participation in divine work that will extend far beyond our lifetimes.
We hope you'll consider joining with us in this vital and lasting work.
Agus Susanto
Director of ACSI Indonesia
Agus Susanto, the director of ACSI Indonesia, grew up in a non-Christian home but attended a Christian school. He providentially became a believer after his older brother, who was attending a Catholic school near their home, became a Christian and passed his faith along to him. Later, Agus successfully petitioned his parents to attend Elkana Christian School.
From the age of 12, Agus wanted to become a teacher. His father told him that to be a man he would need lots of money, so Agus studied civil engineering instead. His heart and passion were always for teaching, though, and after a few years in engineering, he felt God calling him into the education field. He applied to work in procurement at Petra Christian University, his alma mater. Two years later, he became a science and math teacher at Pelangi Kristus Christian School.
During his second year teaching at PKCS, Agus participated in the ACSI Indonesia Christian Educator Certification (CEC) program. The next year, he applied to study at Kosin University's graduate school in South Korea as a Christian education major. He earned a Master of Arts in Christian Education and a Doctor of Philosophy in Christian Education during his time there.
In 2015, Agus met ACSI Global Department's Mike Epp and David Wilcox at the International Christian Educator's Conference (ICEC) in Korea. With them was the former ACSI Director of Indonesia, Ishak Suhonggo Wonohadidjojo, who asked Agus to join ACSI. Agus initially declined, but after praying about the offer for a year, he decided to join ACSI Indonesia in 2017 as its Associate Director. He became the National Director in February 2020.
Agus learned from his mentor, Ishak, that ACSI Indonesia is like a "one-stop shop" for Christian educators. Agus explained that accreditation is not a rigid finality, but rather like a flexible, ongoing process. Teachers start in the Christian Educator Certification program, receive formal certification, and move forward in the learning process by earning Continuing Education Units (CEUs). Then, they will hopefully continue their studies by obtaining master's and doctoral degrees in Christian education. The desired outcome is for teachers to become lifelong learners and flourish in their roles as they disciple students through a Christ-centered education.
Agus oversees 297 member schools in Indonesia. He has created a massive database that includes information for the 5,038 teachers in ACSI's network. 52,348 students attend these member schools and are impacted by ACSI's outreach in the region.
Agus's goals for the coming years are to double the number of ACSI member schools. He said that ideally, his office could "Bring all Christian schools together, hand in hand, to be stronger together." To reach this target, ACSI Indonesia needs more staff members and could use a bigger office, although Agus feels that funds should go toward staff members and a not a building. Staff members "Can share office space with other organizations," he explained.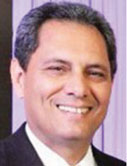 Esteban Missena
ACSI Director for the Southern Cone of South America
Esteban Missena has been the ACSI Director for the Southern Cone of South America for 21 years. He lives in Paraguay and serves Christian schools and educators in Argentina, Bolivia, Chile, Paraguay and Uruguay. Out of the 700 schools in the entire region, 44 Christian schools are active ACSI members.
Esteban was born in a Christian family and his father was a recognized pastor and evangelist in Paraguay and Latin America. Esteban graduated with a B.A. in Architecture from the National University of Asunción (UNA), Paraguay in 1986, and worked as an architect for several years. God later "changed his view," he said, and called him to Christian ministry. He moved to Fort Worth, Texas, to study at Southwestern Baptist Theological Seminary and obtained a master's degree in 1992 and a Ph.D. in Education (1997).
Of the countries Esteban oversees, Paraguay has embraced ACSI the most. The organization is so well respected there that it has had opportunities to advise the government on educational matters. "We are the voice here," Esteban explained. "God is doing this. This is not me." He believes that advocacy is an area in which ACSI will continue to grow in the future.
According to Esteban, the primary role ACSI plays in this region of the world is one of a life preserver because it preserves the "Christianity in Christian schools," he said. He described ACSI's presence as keeping Christian education afloat, and said that in its absence, it could sink into the abyss.
Esteban is praying for God to raise a new generation of leaders and send a gifted replacement for himself. Besides his work for ACSI, he currently working as Professor and General Secretary of the Evangelical University of Paraguay (UEP), teaching in the school of theology and in the graduate school. He is also part of the board of the Association of Evangelical Churches of Paraguay, representing Christian educational institutions in this association and in the public educational sector.
Daniel Neuhaus
Director of ACSI Francophone
Like all ACSI international directors, Daniel Neuhaus does a little of everything in his job. As the head of ACSI Francophone (French-speaking) schools in Europe and Africa, he leads his office in developing tools and programs to strengthen administrators and educators and works at deepening relations and common projects with other Christian school organizations.
One of Daniel's primary roles is that of counselor. He regularly visits or speaks on the phone with heads of member schools who appreciate having someone with whom they can share about the challenges they face. Daniel is eager to lend a listening ear, sometimes for several hours at a time, and offers encouragement, affirmation, and support through prayer.
According to Daniel, "It's a privilege to support people who are not paid [well] who are facing many challenges, who have small schools, who have state inspections and all kinds of challenges."
Daniel grew up a missionary kid in an undeveloped French-speaking part of Africa (Central African Republic) where his parents were Bible translators. He returned "home" to France at age 18, where he earned his degree and married his wife, Sonia. Later, the Lord called Daniel back to Africa and three of his children were born there. The fourth pregnancy was a difficult one, and doctors told Daniel and his wife that without advanced medical care the baby might die, so they returned to France.
Daniel was teaching in France in 2002 when he met Alan and Malinda Brown, who were the ACSI Europe directors at the time. They asked him if he would join ACSI on a part-time basis, which he did. The ACSI-Francophonie was created and by 2007 it had a legal board and was recognized by the French government.
Today, he presides over French-speaking schools in Europe (France, Belgium, and Switzerland) serving 39 schools and 3,000 students, and Africa, serving a dozen countries. His office in France has helped coordinate national conferences and teacher trainings on Christian education.
As a publishing house, ACSI-Francophonie has translated, developed, and printed thousands of materials for schools, particularly those in Africa.
Daniel shared that his office could use more staff members. Most importantly, they need trainers for the African schools. They need more people to train a cohort who can travel in the field throughout Africa and train school leaders and teachers.
Some of the services provided by ACSI to the Francophone schools are:
The privilege of being a part of the global family of Christ-centered schools
Encouragement, moral and spiritual support, and prayers
Administrator's conferences (Europe) and teacher training seminars (Africa)
School visits
Publications (pamphlets and Bible curriculum)
Some of the ways Daniel would like to see his office grow in the coming years:
Identify and hire a gifted assistant who can become his successor in the next 3-5 years
Hire a new person in communications, marketing, and sales who can:

Increase book sales
Generate more income for the office
Generate income for the Franco Africa regions (west-central, Madagascar and Haiti) through crowd-funding campaigns
Increase the "missionary salaries" of the current team
Develop new projects

Appoint a gifted African leader for Francophone regions of west and central Africa
Develop a better synergy between French Christian school networks
Continue to develop and publish textbooks and books on Christian pedagogy

Segun Oludipe
Segun Oludipe has worked for ACSI for 10 years and took over as director of ACSI Nigeria in 2020. Before coming on board at ACSI, he was a teacher.
One of Segun's favorite quotes is about how things that "are not moving toward God must become corrupt."
Years ago, Segun asked himself, "What can we do to bring children to God?" In response, he said that the primary way to "transform" Nigeria, which he describes as being full of corruption on many levels, was through Christian education.
"I saw that transformation in school," he said. While a teacher, his focus became "Christ-centered teaching." Segun said that he saw the light: the way to be a positive change agent in Nigeria was to teach biblical truth. Then a transformation in people would take place; only this would make a difference in how they live.
He said that Nigeria is like most other places in that they love results, but Segun is adamant that Christian education is not just about results. "Good – God = 0," he said. If it's only about results, you just create what he called "intelligent devils."
"Christian education is not about outshining other schools but about raising disciples," Segun explained. "Christ-centered learning is the key."
Christians and Christian schools are under intense persecution in Nigeria. But Segun has seen even more people become Christians despite these conditions.
Here are some Segun's goals for ACSI Nigeria in the coming years:
Grow the member schools list; there are currently 44 accredited schools, but he would like to see around 10 more—or at least 10 that have started the process
Create "synergy," or deeper relationships between schools
Sell the mission of ACSI to churches in Nigeria, as many Christian schools are owned by churches
Raise up 50 trainers to train teachers and administrators\
Own their own building and have a better office with more staff
Get more involved with Flourishing Schools resources and offerings

Grace Turkyakira
We all know someone like Grace Turkyakira. She's the kind of person who is almost always smiling. Anyone who speaks with her even briefly comes away with a smile on their own face. They'll also be inspired listening to her passionately share her vision for advancing Christian education in Uganda.
Grace has been the ACSI Uganda director since January 2020. She longs to see the over 50 member schools develop and grow into what she describes as being "truly Christian"—and not just Christian in name only.
Grace has many terrific ideas to help her reach her goals and is doing all she can to make these plans a reality with the bare minimum of resources available to her office. There are a few things that would be a tremendous help to her.
But her greatest need is for a car.
A large part of Grace's role with ACSI is to mentor school leaders throughout Uganda. With internet being spotty and phone calls not providing the personal touch necessary, the best way to visit school leaders and teachers is to sit down and talk face to face. Getting to schools can be a problem, however. Many of them are hundreds of miles away from the office, and most of the roads leading to the towns are dirt. One of the only ways to get to them is via motorbike.
You can imagine what it would be like to show up at a school on official business after travelling 2-3 hours on a motorcycle—on a dirt road. Renting a car is possible on occasion, but it's largely cost prohibitive.
Besides mentoring school leaders, Grace works hard at fostering unity among the Ugandan Christian schools. "We need to see unity in education," she said. "Unity is non-negotiable." Besides the 50 ACSI member schools in Uganda, there are around 150 other Christian schools that Grace describes as being "Christian in name only." There are also 30 schools connected to Anglican church dioceses. Grace yearns to see all the Christian schools working in harmony.
For all this to happen, Grace needs more trainers. Training is paramount, Grace told us. For Ugandan Christian schools to meet ACSI's high standards, Grace needs more trainers to teach and mentor them. She told us that ten trainers would constitute a full team. She currently has two.
She also needs a good communications/IT person. But having a car and with the basic transportation it would provide go a long way toward helping Grace work more quickly and efficiently toward her goals.
A week in the life of Grace:
Starts each day in the office with prayer
Spends time developing her website
Talks to about 10 school directors a week—mentoring them, praying with them, and offering support
Travels to schools to visit with directors
Follows-up on the phone with directors she visited the previous week
Educates herself on leadership (through books and videos)
Calls schools that were previously on the ACSI list when she took over (200 that was whittled down to 50+) to restart the conversation with them

Laci Demeter
Regional Director for ACSI Europe
Laszlo "Laci" Demeter began his career as a mechanical engineer, but after a few years, he took a full-time position teaching English and engineering subjects at a vocational high school in Budapest. He was asked to serve with ACSI in 1995 by Henry Toews, the director of the newly opened ACSI Europe office. Demeter had wanted since a child to be a missionary in a foreign land, and he realized that with his background in education and expertise in the English language, promoting the cause of Christian education throughout Europe was just where God wanted him. He became the Regional Director for ACSI Europe in 2011.
"The Christian school movement is an arm of the church through which the lost generations of Europeans who have never even attended church can be reached," he stated.
Dr. Stephen Dill, Executive Director of the ACSI Education Foundation, said that Demeter has "always been ahead of the curve." The online training program Demeter began developing five years ago bears this out, as does the Christian School Improvement Platform. You can read more about the training course here.
Demeter said that over 250 teachers hailing from Germany, the Netherlands, Romania, Hungary, Poland, Czechia, France, the UK, Japan, USA, Indonesia Egypt, and Nigeria have taken the courses. Another 1,500 have participated in the courses through the bi-annual International Leadership Conferences and the annual Student Leadership Conferences; the latter conference is a highlight of the year every September. According to Demeter, the conference provides a boost to students who return encouraged and wanting to make a positive difference in their schools.
Demeter supports, mentors, and connects leaders throughout eastern Europe. His goal is for his office to be a strong presence for schools, and he believes in the "iron sharpens iron" principle. He works at getting teachers to realize they are leaders, not only at school, but in the community. He said that "we see a denominational barrier" between educators who are believers. As such, "ACSI is the common ground for leaders to connect."

Mark Taylor
Director of ACSI South Asia
Mark Taylor, Ph.D., is the founding National Director of ACSI South Asia. There are an estimated 15,000 Protestant schools in India alone. ACSI South Asia seeks to strengthen Christian Schools and provide a national fellowship of Christian Schools that are stronger together. To accomplish these goals, it offers the following programs: Teacher training offered at three levels, governance and school leadership training, national and regional conferences, student leadership conferences, web-based resources for download, teacher recruitment assistance, guidance to legal consultancy for government compliance, resources and texts for Moral Science/Faith integration, and Global School Partnerships. Mark has established tuition-supported Christian schools in Southern India and West Bengal, represented private schools to the government of Tamil Nadu, and has spoken extensively at conferences in Europe, Australia, and the United States.

Dilean Martins
Dilean Martins graduated in Pedagogy from the Federal University of Pernambuco and specialization in Psychopedagogy from Candido Mendes University - RJ. She is currently Pedagogical Coordinator at ACSI (International Association of Christian Schools). Has experience in the field of Education, with an emphasis on Teaching-Learning.