ACSI President & CEO, Dr. Larry Taylor
Point of View Livecast - Larry Taylor, Lauren McAfee
ACSI President Dr. Larry Taylor joined host Kerby Anderson on Point of View Radio Talk Show sharing about the unique strengths of Christian education, how Christian schools have truly shone post pandemic, and the emphasis we at ACSI place on integrating a biblical worldview.
From the Heart of Dr. Larry Taylor
From the Heart of Dr. Larry Taylor about Biblical Unity
How good and pleasant it is when God's people live together in unity! Psalm 133:1
One day, every nation, tribe, people, and language will stand before the throne of the Lamb worshipping together. How can we model Christ-like love, reflect the glory of the Father, and—through the power of the Holy Spirit—bring healing to a fallen world today? What's needed more than ever across the globe is biblical unity among believers, and Christian schools are in an ideal position to address this topic.

Dovetailing with our Flourishing domain of Relationships and the constructs of community engagement, insular culture, and prosocial orientation, ACSI's taskforce on Biblical Unity, Diversity, and Social Engagement explored how the Bible addresses these issues and recommended five core principles related to them, outlining in detail various ways they can be applied in schools.

ACSI is providing biblically based training on unity so that your Christian school community can be the hands and feet of Jesus today, bringing shalom to a world of chaos.

Watch ACSI's President & CEO Dr. Larry Taylor video above as he speaks about the heart of this effort.
Dr. Taylor's Quarterly Updates
Running with the Horses (Book)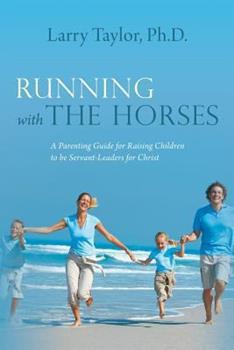 Running with the Horses: A Parenting Guide for Raising Children to Be Servant-Leaders for Christ
We all have great intentions when it comes to raising our children. We want them to succeed, and above all to surrender their lives to the lordship of Christ. As a father of four boys and a twenty-five-year veteran of school administration, Dr. Larry Taylor understands these goals. He also understands the busyness of daily life-how days merge into weeks as hurried lifestyles spin out of control, leaving us wondering how our toddlers became teenagers.

Running with the Horses: A Parenting Guide for Raising Children to be Servant-Leaders for Christ introduces you to a simple, biblically-based plan for raising servant-leaders for Christ. Whether your child is eighteen months or eighteen years old, this book will guide you through the process of preparation for the race that awaits him in this world. We will walk through specific and practical things you can do to build a family plan. Being deliberate and focusing on creating depth in your child's faith is the first step to preparing him or her to run with the horses. "If you have run with footmen and they have tired you out, then how can you compete with horses? If you fall down in a land of peace, how will you do in the thicket of the Jordan" (Jeremiah 12:5).
To learn more, Click Here
About Dr. Larry Taylor
"I can think of no greater cause than to partner with you to advance Christ-centered education." Dr. Larry Taylor, ACSI President & CEO
Dr. Taylor has been serving in education for over 30 years. He is passionate about training up this generation of disciples for Jesus Christ through Christian education.
Prior to accepting the President position at ACSI, Dr. Larry Taylor served twenty years as the Head of School at Prestonwood Christian Academy (PCA) in Plano, Texas. Prestonwood Christian Academy serves more than 1,600 students enrolled at four campuses as part of its school system.
Prior to PCA, Dr. Taylor served for twelve years at The First Academy in Orlando, Florida as a High School Principal and Assistant Headmaster. He also has held teaching positions within the public-school system. Dr. Taylor co-launched a national training institute for schools, "Becoming a Kingdom School Institute" and founded the Student Leadership Institute (SLi) program. He developed a training program for parents titled, "Becoming a Kingdom Family." Dr. Taylor published the book, Running With The Horses, that helps parents raise children to be servant-leaders for Christ and helps to build a family plan.
Dr. Taylor has served as President of the Texas Private Schools Association (TPSA) Board of Directors, and served on the Board of Directors for the Association of Christian Schools International (ACSI), and the ACSI Education Foundation prior to accepting the president position.
Dr. Taylor received his Ph.D. in Philosophy in Leadership Studies from Dallas Baptist University (2009); his master's degree from Nova University (1993) and his Bachelor's degree from University of Central Florida (1986). Dr. Taylor has been married to Delinda Rose Taylor for 34 years and has five sons, Bryce, who graduated from Yale University and Notre Dame Graduate School and is married to Julia; Luke, a graduate of Princeton University, and the University of Chicago Booth School of Business, and is married to Ruthie; Zeke, a graduate of Florida State University; Chas, a graduate of Rice University, and currently in law school at the University of Chicago and is married to Madeline; and an adopted son, DeMarcus, a graduate of Ouachita Baptist University.