ACSI VISION 2030: A message from Dr. Larry Taylor from ACSI on Vimeo.
Vision 2030 is a developing plan that builds upon our three foundational pillars through four new growth initiatives to globally support flourishing Christ-centered education.
We are sensing a desire to continue in bold and innovative ways, not only responding to critical needs before us today but also planning for the future of Christ-centered education tomorrow.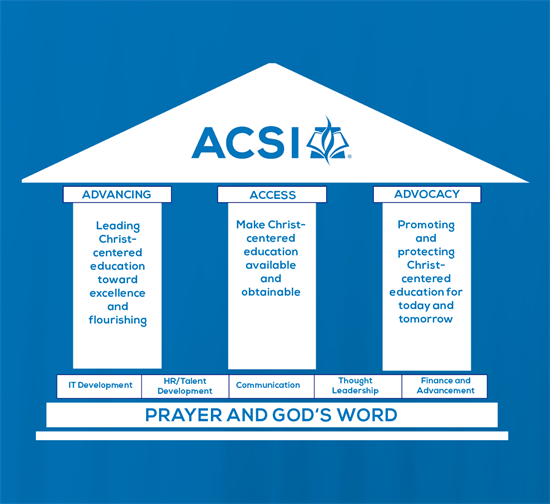 NEW FIELDS




OF MINISTRY
Assisting in innovative and thriving schooling delivery models to provide children with greater access to Christ-centered education.


MISSIONAL




PARTNERSHIPS
Connecting with others to bring greater missional impact.


EDUCATIONAL RESOURCES




& PROGRAMS
Addressing the needs for high quality, biblically based educational resources and programs globally.

TEACHER & LEADER




PIPELINE
Equipping more credentialed and biblically trained teachers and leaders for educational ministry.


How Did Vision 2030 Develop?
ACSI has been blessed with 45 years of advancing Christ-centered education. As you may know, ACSI embarked on strategic planning in 2018 and 2019. From that time, three foundational pillars of Advance, Access, and Advocacy were formed. With many of the established goals completed in 2022, we sensed God's direction to begin looking into the future and specifically at how we could go deeper between now and the year 2030.

Over the past 18 months, our entire team has been seeking the Lord through His Word and prayer and surrounding ourselves with a multitude of counselors. We have consulted with industry leaders, current practitioners, and our school leaders. We have gone through a scanning process that has covered all seven of our global divisions. We have explored God's heart on what He wants to do with Christian education.

A few months ago, we started sharing ideas with our key leaders and our Board of Directors. We all started sensing clarity, and a fresh global vision for ACSI started to emerge under four key areas from a long list of ideas. In October, we received the full endorsement of the ACSI Board to continue our planning process and examine these four areas even closer.

We are excited for what the future holds knowing WHO holds the future.
In the coming months, we will continue to seek and pray for God's continued wisdom and discernment as we craft this God-sized vision into tangible tactics driven by God-honoring stewardship. We ask that you join us praying for Vision 2030 knowing the work before us now will create momentum for the days to come.

"The heart of the man plans his way, but the LORD establishes his steps."
PROVERBS 16:9