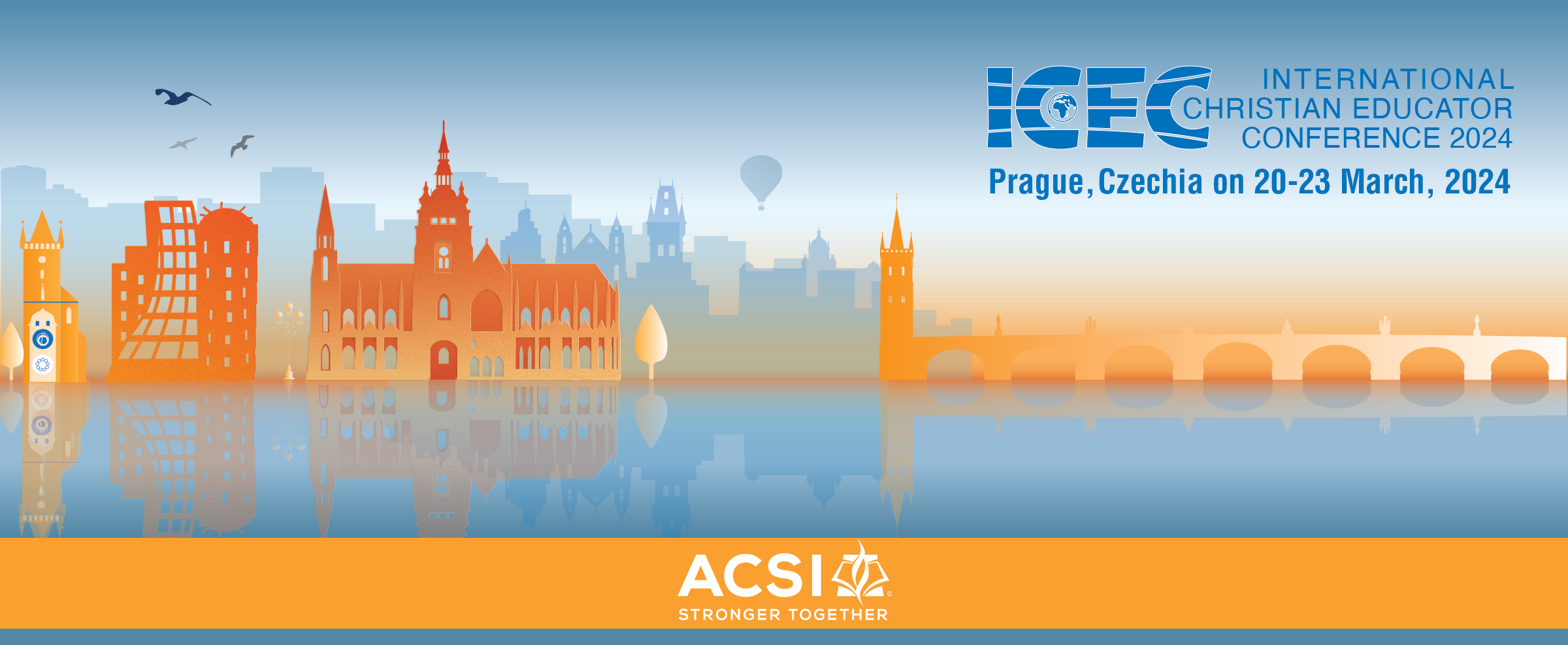 Join us at International Christian Educators Conference - Europe 2024
Prague, Czech Republic
20-23 March 2024
The International Christian Educator Conference (ICEC) is ACSI's premier international PD event that encourages teachers and leaders working at member international Christian schools. ICEC Europe 2024 will be held on 20-23 March 2024 in beautiful Prague, Czech Republic at the Vienna House Diplomat Hotel. This conference will showcase engaging and inspiring keynote speakers, a variety of excellent teacher-to-teacher workshops, and time for connection through small group discussions.
Leaders from ALL ACSI regions are heartily invited to attend.
Registration:
See registration tab for more information!
CEUs:
You will earn valuable CEUs based on your attendance at this conference.
ACSI REFUND POLICY: Except in cases of medical emergency, urgent family emergency, school crisis there will be no refunds for pre-registered events. If you or a pre-registered member/delegate from your school is unable to attend an event, you are encouraged to send a substitute, such as a board member, other staff member, or an interested parent. Refunds that are given are subject to a service charge of $50 per registrant, which will be deducted from the refund amount. Reach out to the Event Coordinator, chealsea_allen@acsi.org, for questions.
Draft schedule: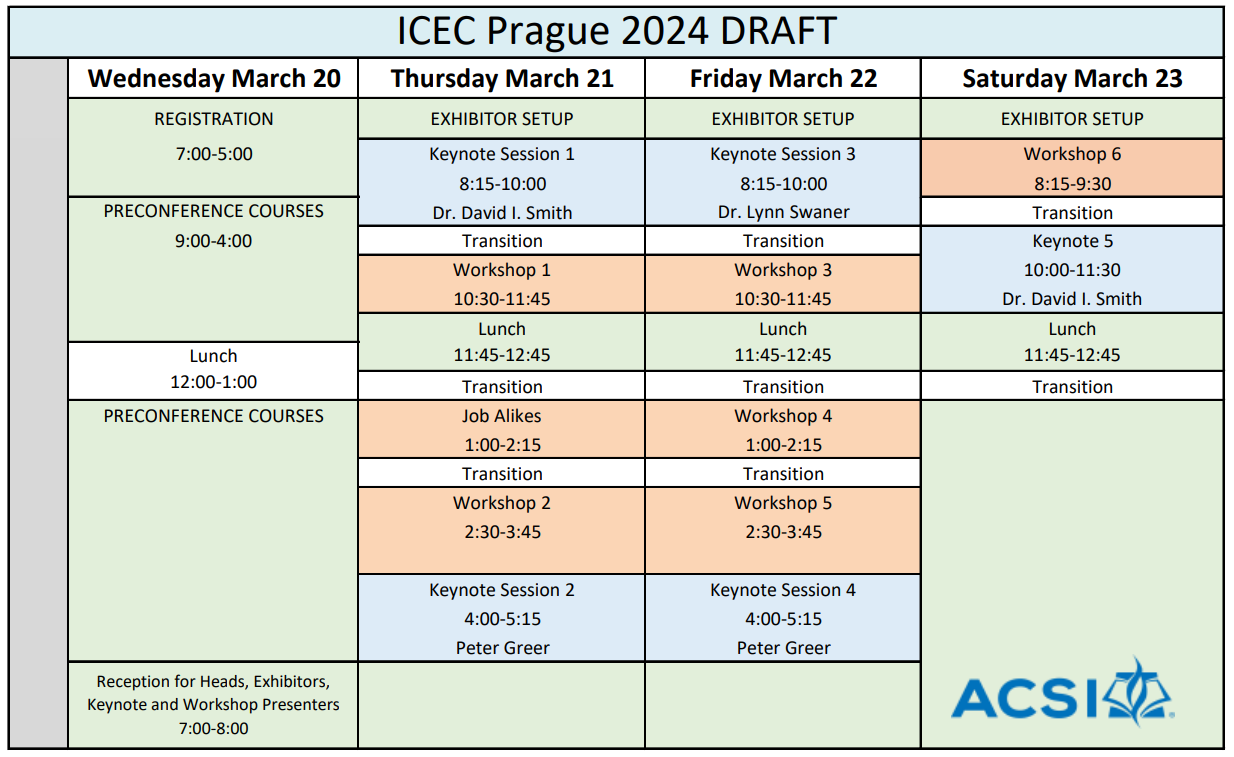 Peter Greer
CEO of Hope International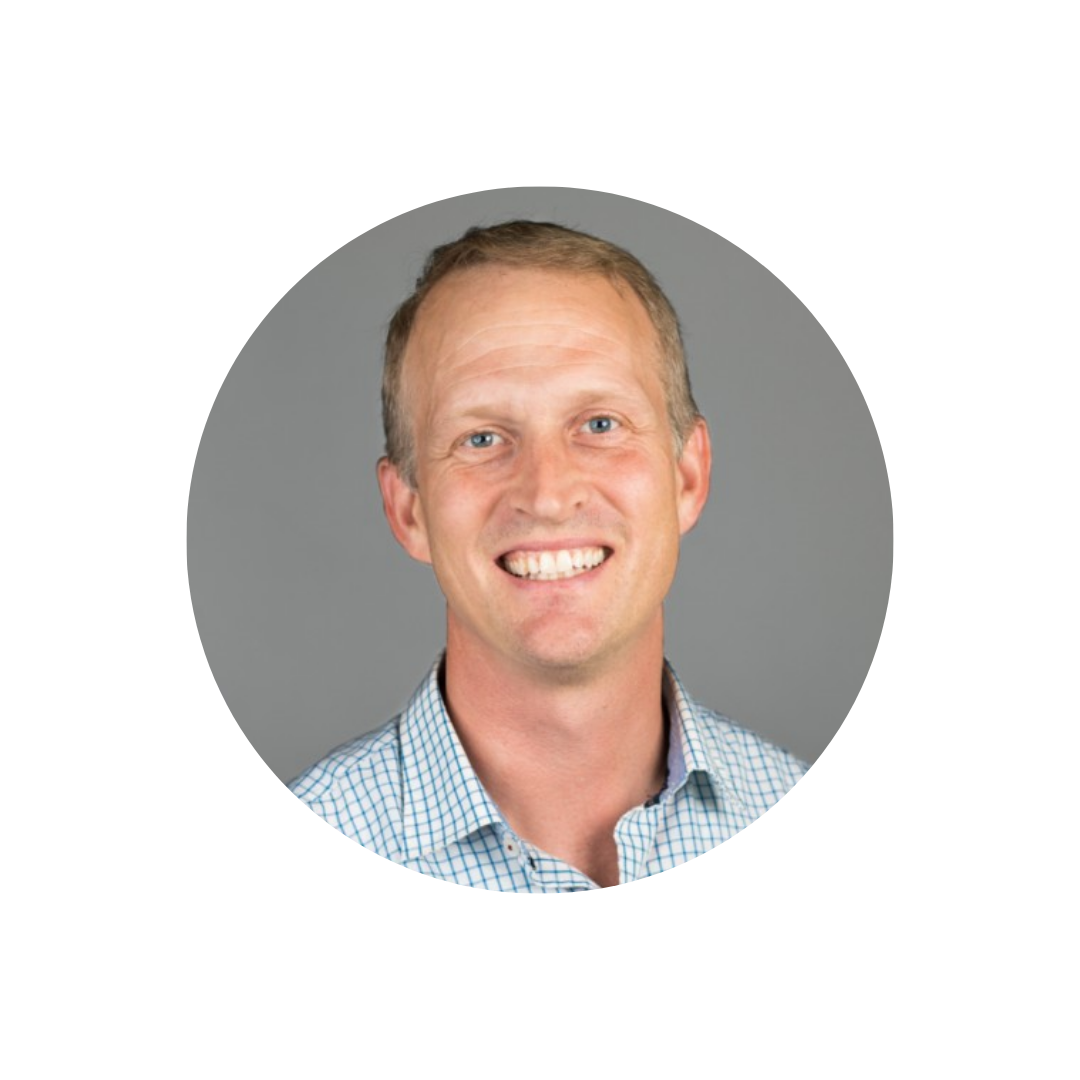 Peter Greer is president and CEO of HOPE International. Peter's favorite part of his job is spending time with the entrepreneurs HOPE serves—whether harvesting coffee with farmers in Rwanda, dancing alongside savings groups in Haiti, or visiting the greenhouses of entrepreneurs in Ukraine. Prior to HOPE, he worked in Rwanda, Cambodia, and Zimbabwe and received a master's in public policy from Harvard's Kennedy School. In his spare time, he has co-authored 12 books, including Mission Drift and Rooting for Rivals. He lives with his wife, Laurel, and their four children in Lancaster, PA.
Dr. Lynn Swaner
Chief Strategy and Innovation Officer, ACSI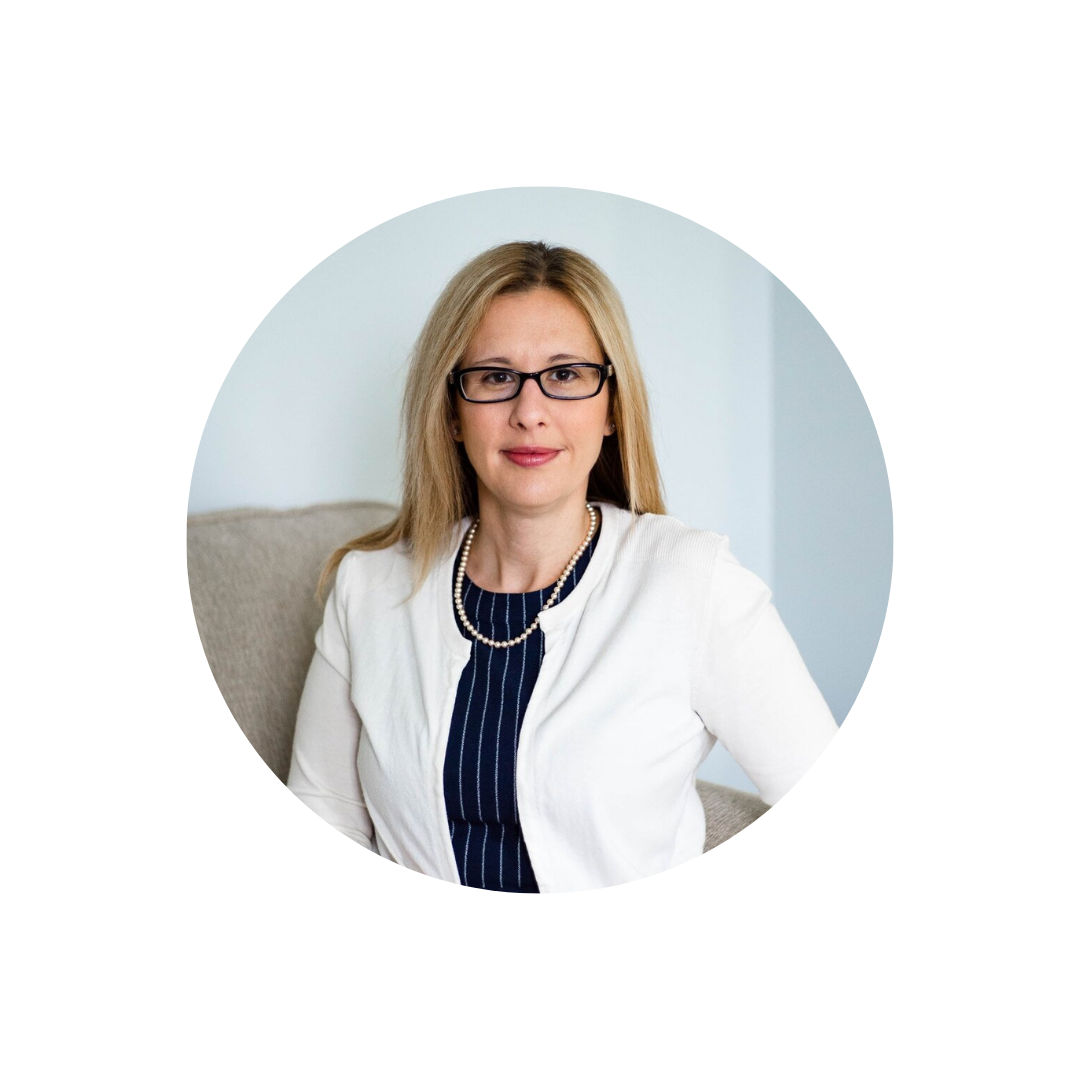 Dr. Lynn Swaner is the Chief Strategy and Innovation Officer at ACSI. Dr. Swaner serves as a Cardus Senior Fellow and is the lead author or editor of several books on Christian education, including Flourishing Together: A Christian Vision for Students, Educators, and Schools (forthcoming 2021, Eerdmans), MindShift: Catalyzing Change in Christian Education, PIVOT: New Directions for Christian Education, and Bring It to Life: Christian Education and the Transformative Power of Service-Learning.
Dr. David I. Smith
Professor of Education, Calvin University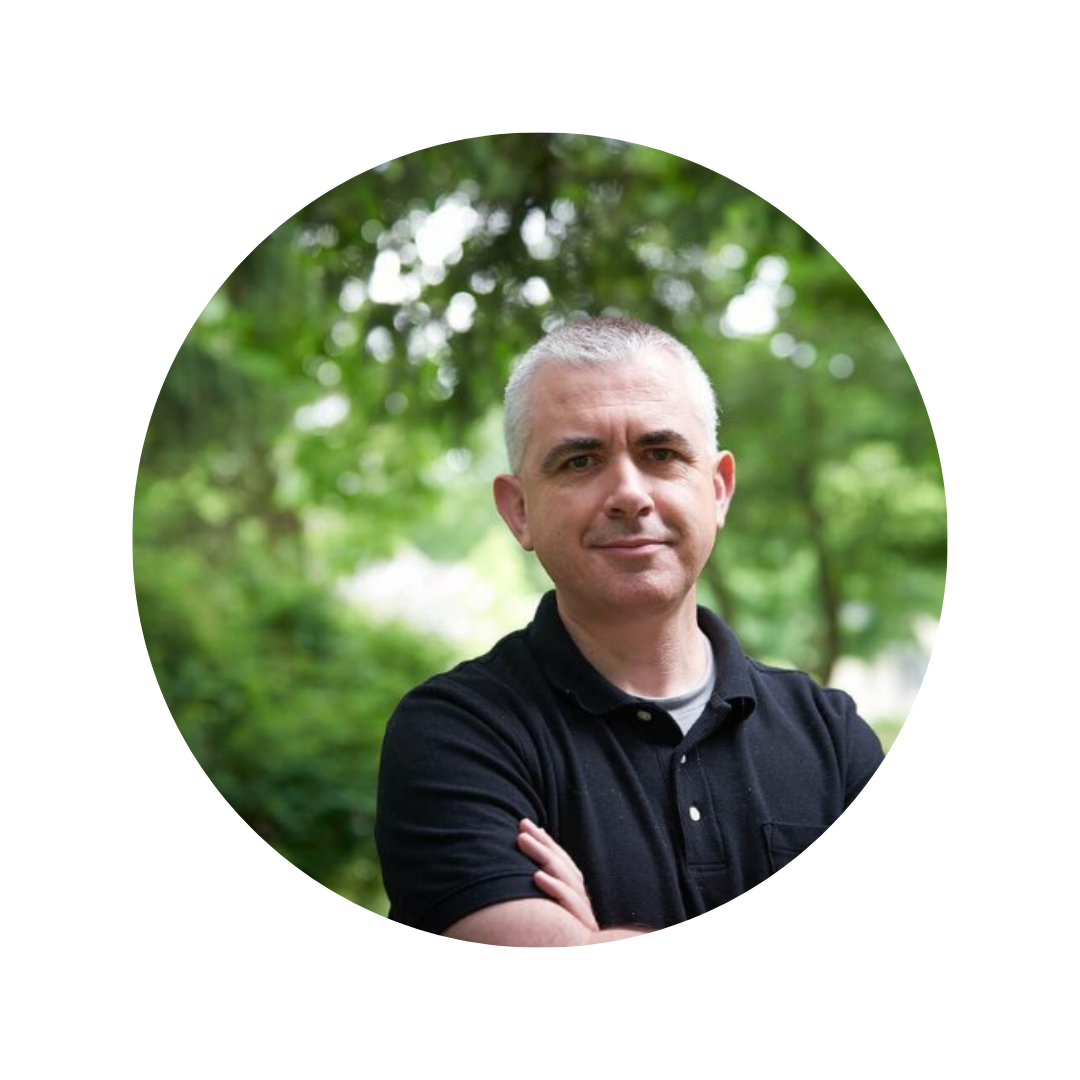 Dr. David I. Smith began his career teaching French, German, and Russian in public secondary schools in the United Kingdom, where he became fascinated by the question of how our beliefs, values, and commitments can shape and guide our approaches to teaching and learning. After graduate work in philosophical theology, philosophy of education, and curriculum studies he moved to Calvin. He serves as the founding Director of the Kuyers Institute for Christian Teaching and Learning and inaugural coordinator of the De Vries Institute for Global Faculty Development, as well as teaching in the education program. He also serves as Editor of the International Journal of Christianity and Education. He is regularly involved nationally and internationally in professional development for schools, colleges, and universities, especially focusing on the connection between faith and teaching. He has received Calvin University's Award for Innovative Teaching as well as its From Every Nation Award for Excellence in Teaching. You can find out more about what he does at onchristianteaching.com.
Registration:
Conference registration will include access to all keynote sessions, workshops, and coffee breaks and lunches during the conference. Hotel accommodation/package rates and evening dinners are not included. Registration does not include preconference course registration - see preconference tab for more details.
ACSI Member School Conference Registration | $500
Non–Member School Conference Registration | $600
Register Here
Cancellation Fees:
ACSI REFUND POLICY: Except in cases of medical emergency, urgent family emergency, school crisis there will be no refunds for pre-registered events. If you or a pre-registered member/delegate from your school is unable to attend an event, you are encouraged to send a substitute, such as a board member, other staff member, or an interested parent. Refunds that are given are subject to a service charge of $50 per registrant, which will be deducted from the refund amount. Reach out to icec@acsi.org for questions.
Hotel Accommodations:
ICEC Europe is being hosted at the beautiful Vienna House Diplomat Hotel in Prague, Czech Republic.
Discount valid from 19 March to 24 March
Discounted rate is $110.30 per night
Discount code expires on February 19, 2024
Workshops & Pre-Conferences
Workshops
Peer to peer workshops at ICEC are the heart and soul of our conference. You are heartily invited to submit your workshop proposal here. Presenting a workshop is a wonderful opportunity to share your passion, your new idea, your success across a number of educational areas. Learn about our workshop process and submit your best proposal(s) using our ICEC workshop submission form HERE.
Workshops are included in your main conference registration.
Pre-Conferences
Pre-Conference Registration Price: $75.00. Pre-Conference will take place on Wednesday, 20 March. This event is separate from the conference. Details coming soon.
Pre-Conference Topics:
TESOL Basics: Foundations for Working with English Language Learners with Dr. Jan Dormer: This workshop provides an overview of foundational concepts and skills in Teaching English to Speakers of Other Languages (TESOL). Whether new or review for you, the content will help you work more effectively with English learners. We will begin with foundational concepts about language: how languages work, and how new languages are acquired. On this foundation, we build an understanding of the kinds of experiences learners of English need in school, to make progress in acquiring the English language. Issues such as learner differences in age, proficiency level, and native language will be addressed. Hot topics such as English learners with special needs and the training needs of mainstream teachers will be discussed. The workshop will include abundant opportunities for discussion and the sharing of particular school concerns and needs with regard to English learners. Active and engaged experiential learning will be used to learn research-supported strategies and techniques that are effective for English learners. Participants will receive excerpts from Dr. Jan Dormer's newest book, ELT Basics: A Beginner's Guide to English Language Teaching. In addition, three copies of Jan's book will be raffled off at the end of the session.

Waive a course in Taylor University's fully online TESOL Licensure or Certificate Program!

Participants in this pre-conference session and Jan's other TESOL sessions in the ICEC conference can waive our initial course, TSL 501: Intro to TESOL and SLA, in our TESOL Licensure and TESOL Certificate programs. Get in touch with Jan at jndormer@taylor.edu for more information!
Inspire Accreditation Course with Michael McNabb: This course will look at the Inspire accreditation process and protocol from start to finish. Inspire is the first complete rewrite of ACSI's accreditation protocol since 2008. Significant changes in Inspire will be highlighted. Standards and indicators have been rewritten, manuals and handbooks have been revised, there's more emphasis on collaboration, the process has been streamlined, and a totally new set of addendums have been developed. The whole process from application through implementation of the Accreditation Action Plan is better structured and better organized. We will look at all these things and much more.
International Summit on Spiritual Formation and Biblical Instruction with Roslyn Barnes: Chaplains, Spiritual life directors, and Bible teachers in international schools are invited to participate in this one-day summit on Spiritual Formation and Biblical Instruction. We will be engaging with God's word, with questions and ideas about best practices, and with each other as we consider how to grow our International Christian Schools as places that foster genuine spiritual transformation.
ICEC Europe provides you with an opportunity to get your product, message, degree, or opportunity to hundreds of teachers and leaders at influential, international Christian schools in Europe. Teachers and leaders at ACSI International Schools are always eager to hear about products and companies that can enhance their work of bringing Christian education to the children of the world. No matter your budget, we have a sponsorship opportunity for you.
2024 ICEC EURO Exhibitor Options
Please submit your interest via this form and our team will reach out with next steps.
Why be an exhibitor at ICEC?
ICEC pulls in teachers and leaders from international schools across Europe

We are expected 300-500 delegates for this conference

International schools are looking for strong providers and partners to help them fulfill their international purpose

Your sponsorship gets your message out to efficiently

Your marketing dollars will go further at this virtual event, requiring no travel or lodging
Who is a good candidate to be an exhibitor at ICEC?
Christian Colleges and Universities looking to recruit international students

Christian Colleges offering education Master Degrees for teachers and leaders in international schools

Christian education consultants and job boards

School Systems Management providers

International Insurance groups who serve expats

Educational training programs

Curriculum and textbook providers (requires approval)

Assessment and testing organizations

Other – reach out to us to see if your organization is a good fit to our conference
*ACSI, in its sole discretion, reserves the right to refuse or prohibit any vendor from participating in or otherwise exhibiting at a conference if such participation or exhibiting is contrary to or conflicts with ACSI's mission and values.
Sponsor information coming soon.