Events for the FY23-24 School Year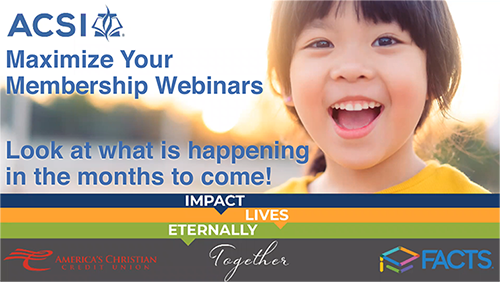 As you gear up for another school year, ACSI invites you to mark your calendar and plan to attend the many ACSI events and experiences in the United States as possible. Click below to learn dates/times/locations for each offering.

Whether you are an early educator, a teacher, or a parent, you have an opportunity to grow in your calling. Mark your calendar and plan to join us in 2023-2024 as we learn through in-person and virtual professional development opportunities!
Flourishing School Institute (FSi)
The Flourishing Schools Institute (FSi) is a professional development opportunity for school leaders and teachers who want to transform their school culture to flourish. Many leaders attend and then come back with more team members to gain perspective and glean insight into their school culture. Learn more about upcoming events in the 2023-2024 school year.
Urban School Leaders Gathering
Following FSi Charlotte, join us for the Urban School Leaders' Gathering: Flourishing in the City! ACSI and Spreading Hope Network invite you to a retreat gathering of current and emerging education leaders serving in urban school environments. Our prayer is that each leader leave with renewed zeal, deepened insights, and new peers to reach out to in the future. Everyone and Every School can Flourish. As a leader, you can too!
ACSI Public Policy & Advocacy Summit
Join us for our annual Public Policy and Advocacy Summit held in Washington, DC September 18th-20th. This year's special professional development summit will include training on dispelling fear of the unknown, a gala dinner at the Museum of the Bible, special guest speakers, and so much more.
ACSI Student Assessment Program
ACSI provides free assessment informational and training webinars to assist you in making the most out of your school's assessment program. Register to attend a live event or watch previously recorded webinars at your convenience.
Purposeful Design Publications
Purposeful Design Publications provide resources and assessments, including academically rigorous textbooks that are intentionally rooted in biblical truth, to equip schools and educators with the tools to eternally transform the hearts and minds of children. Register for textbook introductory and overview webinars at your convenience.
Rooted: Educator Worldview Retreat 24' - Save the Date!
June 24-27, 2024 - Black Mountain, NC

Some days it feels like secular culture is winning. Yet, Scripture draws us back to a pivotal premise – God's truth prevails. Even so, educators around the world are asking how to more effectively engage students in the spiritual formation journey and help develop deeper roots in the flourishing soil of a biblical worldview. ACSI and the Colson Center have partnered together to offer a "worldview retreat" to answer this leading question and provide valuable resources for: a) developing a Christlike culture, (b) facilitating healthy faith formation, (c) providing tools to engage secular ideology, and expanding best practice around a clear and consistent application of biblical integration across all subjects.
Flourish Deeper: Spiritual Formation & the NEW Flourishing Faith Index
February 8, 2024
School Leaders are engaging around the importance of spiritual formation in an ever-changing culture and among a myriad of voices. Understanding what flourishing faith in Christian schools looks like, how students grow in their faith, and how Christian schools help nurture and promote spiritual growth is a primary and foundational issue. Join this national event as school leaders and content experts collaborate around the challenges and opportunities of faith formation and experience the unpacking of the NEW Flourishing Faith Index (Research & Instrument). Together, we will engage around integral components: Head (Faithful Worldview), Heart (Faithful Fruit), & Hands (Faithful Deeds) while exploring implications for practice.
ACSI Leadership Network Meetings (formerly District Meetings) are an opportunity for you as a school leader to meet together with local peers to build connections and learn together.
ACSI Student Activities enhances learning beyond the classroom by giving students the opportunity to develop the skills necessary for Christian leadership by engaging in enriching events and experiences designed to impact educational and spiritual growth. Learn more about how your students can get involved in the 2023-24 school year.
2023 International Schools Job Fair
We are thrilled to be hosting an in-person tour with stops at three top Christian universities: Liberty University, Dallas Baptist University, and Grand Canyon University. International school recruiters will have the opportunity to meet students, faculty, and admission staff as well as tour each campus. Recruiters will also have the opportunity to participate in discussion panels to share more about their schools and teaching internationally.
Continue to check back as other 2023-24 events are added!