Speech Meet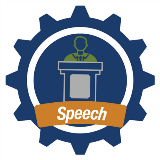 The ACSI Speech Meet is designed to help students cultivate skills that contribute to effective communication and leadership. Throughout this experience, students develop public speaking skills such as projection, expression, articulation of thought, poise, and application of concise thought while presenting in a live audience situation. Students do not compete against one another; they are judged against established criteria.
Students in grades 1-8 are eligible to participate in the ACSI Speech Meet. A school may enter a maximum of 36 entries and is encouraged to spread those entries evenly between grade levels and categories. Students are limited to participation in one category, within their own grade level.
Speech Meets are hosted by ACSI member schools in-person; dates vary.

Speech Meet Categories:
Grades 2-4 Categories
Bible Memorization
Poetry
Fable and Folklore
Grades 5-6 Categories
Bible Memorization
Poetry
Patriotic Oration
Dramatic Bible Prose
Original Speech
Grades 7-8 Categories
Bible Memorization and Application
Dramatic/Humorous Poetry
Original Speech
Dramatic/Humorous Costumed Monologue
Dramatic/Humorous Reading (Prose)
Puppets
Visual Aid
Adjudication & Awards
Entries are judged based on a rubric rather than in direct comparison to other students. Superior, excellent, and good scores are awarded with ribbons.
Registration & Fees
School Registration Fee: $85 per event by October 13, 2023 ($105 after deadline)
Student Participation Fee: $15 per entry 30 days before the event ($5/student late fee after deadline)
For additional information, please contact a Student Leadership & Learning team member.
Interested in Hosting This Event?
Click below to view event-specific details. For general Host/Chair information and the opportunity to volunteer, please click here.